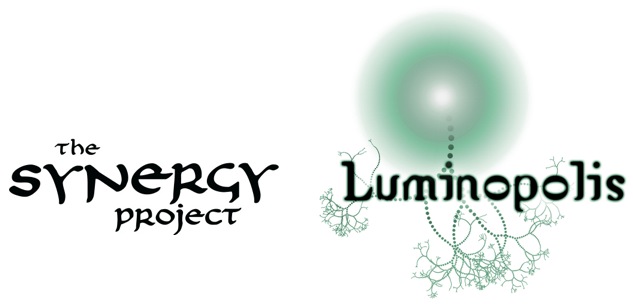 Dear friends, another summer has gone by and after many adventures in the fields we are preparing for another magical season of your favourite indoor festival! As you may have heard, following an intellectual property dispute earlier this year with The Synergy Centre, The Synergy Project has agreed to change its name to Luminopolis (meaning "city of light"). Although often confused due their similar names and shared roots, The Synergy Project and The Synergy Centre were always separate organisations – our name change simply reflects this and clears up the confusion – The Synergy Project is dead! Long live Luminopolis!!
However rest assured that nothing about the event itself will change other than for the good, and Luminopolis will still be organised by us, and many of the same production crews and collaborating organization that brought you The Synergy Project. We will continue to gather an ever growing community of creative and pro-active organizations involving musicians, producers, Djs, Vjs, performers, healers, organizers, activists, intellectuals, and forward thinking individuals, coming together to promote and support the work of NGO's and charities, and hopefully inspire many to get involved in the ever growing movement for social and environmental regeneration.
The first two Luminopolis events will be on Friday the 3rd of October and Saturday the 22nd of November. Room hosts will include Small World Stage, Inspiral, Liquid Records, Fish Seeks Bicycle, Folktronica, Future Music, Furthur Project, Echo Systems, Blood Tribe Records, joined later on in the season by Bingly Bongly, Sangita Sounds, Tribe of Frog, Kundalini, Skandalous and many more!
Join us all on the 3rd of October to welcome this new chapter in conscious partying! =)
Cheaper tickets only available till this Sunday!! Click here!
More pictures can also be found at:
photographicon
Dont Stay In

To see a

map of the venue

click here
To find out

how to find us

click here
To

buy tickets

click here

Why not join our new Facebook group and Myspace page…
http://www.facebook.com/group.php?gid=35473590961 and www.myspace.com/luminopolis
***
Luminopolis Suggests!
***
inSpiral Hosts the Chill out at Festival of Peace – Saturday 27th September
The Festival is a unique event with over 30 free talks and workshops and over 40 stalls covering: raw food preparation demos, superfoods, hemp, self empowerment, self healing, intuition, permaculture and environment, nature cures, natural cosmetics, spiritual/holistic philosophy, meditation, yoga, natural parenting, kids nutrition workshop, and plenty of delicious, nutritious, fresh organic gourmet vegan food stalls & juice bars.
Also at The Festival Of Life inSpiral DJs will take you on a musical journey where the emphasis on the music is healing and connectivity…
The music will be groovy yet chilled enough to relax with a chai or smoothie whilst chatting to friends at the legendary inSpiral festival cafe.
Enjoy…
Paygan (planet Angel) – warms up the evening with some groovy, global grooves.
Aliji (Liquid-Records / inSpiral) – saucy, minimal, techy grooves from inSpiral events organiser.
Giani – (Native State Records / inSpiral) – electronic grooves from one of the inSpiral resident's.
See their website for more info…
inSpiral lounge will be hosting one of the main cafes as well as the chill out space of the evening dance party, with smoothies, raw treats and other of our yummy delicacies!
we truly recommend you come along for a boogie as it looks like a great festival to be part of and we are going to play some seriously nice music for you!
***
The London Festival of Tantra – Saturday 27 September 2008
The London Festival of Tantra will be held on Saturday 27 September 2008 at Chelsea Old Town Hall. It is an opportunity to explore and experience a fresh perspective on Tantra as an intellectual and practical way to achieve personal and spiritual empowerment. Some of the world's most inspiring teachers will discuss Tantra relating to sexuality, personal realisation, and spiritual consciousness. Topics will include Tibetan Buddhist Tantra, Kundalini and Hindu philosophy, Tantric Kriya Yoga, Celtic Tantra, and the use of Tantra as a tool for spiritual exploration, sexual healing, and self liberation. Participate in meditation, yoga, and chakra dancing; see stunning artwork and exciting performances; meet people from many cultures and beliefs. Tickets £50 in advance. More information from londonfestivaloftantra.com
***
FUTURE MUSIC – Friday 17th of October
Future Music is a new series of club nights / mini-festivals aimed at promoting some of the most cutting edge sounds present in the contemporary world of Electronic Music. The age of the internet and global interaction has harnessed an exciting cross-pollination of sounds giving birth to a wide array of new genres and sub-genres. Future Music is a multi-room event which brings to London some of these exciting new sounds spanning genres including Tech-Funk | Breaks | Electro | Minimal Techno | Tech-House | Dubstep | Glitch-Hop | IDM | Glitch | Electronica & all the bits in between…
The production behind the event is an all star team made up of various organizations that have been emerging from the UK underground music scene, these include the promoters behind the Synergy Project and those responsible for its fully immersive synesthetic production. Other contributors will include Metroline Records, Blood Tribe Records, Addictech, iBreaks Radio, Liquid Records, Inspiral, Archangel UK, Inner Apparat , Folktronica, Skandalous! Extra Dimensional Space Agency
www.futuremusicevents.com | www.myspace.com/futuremusicevents
and many other creative organizations and artists of the UK underground scene joining forces to showcase in London one of the freshest and most forward thinking club night experiences of the amazing modern times we live in.
***
Stand Up for Your Rights festival – Saturday, October 18, 2.00-8.30pm.
Waterloo Action Centre, 14 Baylis Road, London SE1 7AA. Tickets £10/5. With John McDonnell MP, human rights lawyer/activist Bill Bowring, Rahila Gupta (Southall Black Sisters), Kevin Smith (Carbon Trade Watch), Global Women's Strike, The Gypsy Council, Coalition for Independent Action, John Stewart (HACAN-Clearskies), Paul Feldman (author of Unmasking the State, a rough guide to real democracy).The Putney Principles and Unfinished Business – New plays about the Levellers and the Chartists. Live music with Peyoti for President & David Goo. Timeline exhibition & film. Organised by A World to Win. More info / registration at http://www.aworldtowin.net/about/standup.html
***
Blood Tribe Records!
Nagual Sound Experiment – 'One Glove
Screenager vs. Stigmatrix – 'Serious Music'
Following on from his critically acclaimed album 'Invisible Movements', released on Liquid Records last year, NSE returns with his first release on Blood Tribe, 'One Glove'. A high octane psychedelic dubstep anthem guaranteed to brighten up even the darkest days of our British summer!
Built around tight bass line pressure, heavily gliitched out rhythms and old school hip hop chord progressions, producer Cameron Leonard-Schroff (AKA Psybreaks pioneer, Mood Deluxe) fuses all this with percolating, psy-infused melodies and dub samples, exploring his many heritages.
On the flip side, we introduce you the dark and twisted world of Screenager, who unleashes a master class in tense and highly charged atomic drop dubstep. Built around moody hip hop textures, Brighton based producer Mark Owens delivers a monster of a track, perfect for angst-ridden individuals intent on agitating their parents or housemates.
Listen in at: www.myspace.com/bloodtriberecords
Available on Vinyl and Digital from the following online outlets:
Born from the desire to experiment with altering and expanding the sonic framework of Dubstep, Electro, Hip Hop, IDM and 2-Step, Blood Tribe represents artists that cross the boundaries that define musical genres, with a common theme of an unprecedented addiction to the manipulation of the lower frequencies…
***
Free Tracks Give Away!!
RND are a London/Tokyo based band producing their own unique style of upfront,dub flavoured beats. After a storming set at Synergy last year and on the inSpiral stage at Glade festival, RND wanted to thank all those who attended with a special gift! As a taster of their latest album release 'Ask The Dust', RND present two exclusive new remixes of the mighty 'Negotiations',featuring Brother Culture on vocals,plus the previously unreleased epic 'Purple Sunset'. Click on image to get tracks!
***
'The best cyberpunk riot since The Prodigy'
-The Metro
The new Subsource single, 'Dark Is The New Light' is being released on 10th November by Doombox Recordings, featuring their own dubstep remix and breaks remixes by Mr. Frisk. It will be available from iTunes, HMVdigital, Beatport and all other major download stores. To help celebrate the release, they are giving away the B-side as a FREE DOWNLOAD, 'Bows And Arrows' available HERE for a limited period.
***