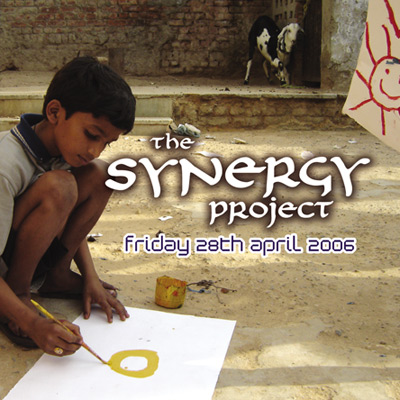 (click image to see full flyer)
Participating NGOs
Find the rooms: layout of venue.
More pictures at Photographicon
---
The Synergy Project
Friday, 28th April 2006
SEOne Club London Bridge, Weston Street, SE1 London UK
We return for yet another magical night of art, dance, and inclusive diversity – undoubtedly one of London's most creative and inspiring club experiences.
Synergy gathers an incredibly colourful and vibrant crowd whilst managing to cast a critical eye on the troubled social and environmental situation of our planet. Embedded within a powerful celebratory context that caters for some of the most eclectic taste buds Synergy offers a glimpse into a different reality, bringing together artists and campaigners from London's alternative and environmental community.
Exploring new ways of living and working Synergy is seeking a healthier and more harmonious co-existence.
For this aim we will continue to promote large non-smoking environments at our events, safeguarding everyone's inclusion. We hope that you will understand our vision and help us by supporting this exciting and daring project.
We have a Peaceful Smoking Initiative. Please also read the Venue's Drug Policy.
***
in the Main Room…
Liquid Records and Inside-Us-All
Collaborate once again to give you the very latest in cutting edge dance floor environments. Developing the divine inventions of a true synergized clubbing experience.
Showcasing the work of inside-us-all latest development projects in Pushkas, Rajistan, India.
For more information please visit
www.liquid-records.com
www.inside-us-all.com
LIVE

Polaris – neurobiotic records
Beatnik – live debut – nano records
Zub-Zub – synth from Jole (eat static), flutes from Champignon (ozrics), guitar from Alex Pym and Mindflux
PROJECTIONS

Inside-Us-All and friends
Inside-us-all.com


DJ'S

Kana – (Japan)
Snafu – omniscience
Carlos Santan – wild things
Tom Fu – liquid records
DECOR

Fluffy Mafia

Purple-project


Glow toy light shows provided by Jedi Jugglers
Soon Poi classes to be held at the Synergy Centre.
For more info contact – jedijugglers@yahoo.co.uk
***
in the Blue Room…

IDSpiral
Distributors of fine chill and uplifting art since the year 2000

As one of the core contributors to the magic of Synergy, IDSpiral have developed a distinct and textured feel in ambient art culture – providing a diverse and yet coherent environment, enriched with fascinating decoration and designed to stimulate the mind and relax the soul. This event will see a strong focus on performing art and dance – both key elements to self discovery – we will feature electronic artists from as far away as Hungary, showcase our own community's richest talents and present some rather breathtaking new acts.
LIVE SETS FROM:
Urban Myth Club
eclectic down tempo with divine vocals. With their Top 30 hit "I Feel It" and recent No.1 Artist position worldwide on MySpace, Urban Myth Club are set to take to the world stage in 2006. www.urbanmythclub.com
Zoltan– unheard off electronic beats from the depth of Hungary – first ever live show
Marconi Union – live – mysterious ambience fused with pulsing electronica
PERFORMERS:
Sarah Popowa – a brief excursion to the world of modern Japanese Butoh dance
Sandra – the elfin dancer performing traditional Indian dance
Phatix Dance Company – exploring the body's relationship to space and time
Amanda – Raqs Sharqi Performance – infusing the richness of Egyptian culture
Amie – an experimental physical performance
DJs:
Gandolfi – and her 'return from India' DJ set
DJ Mudra – intuitive intelligent inspirational music to round it all off
11.00 Shamanic Shape Shifting Workshop with resident shaman John Crow – a guided journey through body, mind and spirit.
VISUAL SETS

Elestial – spirituality and technical wizardry combined
Tom Peto – special artist working with installations
Inside-us-All – conscious messages delicately presented
Visualchemy – evolutionary eye tinctures
Also exhibiting 'Psychedelic Mayan Experience' artwork by William George Bashford
***
in the Deep Blue Room…

Small World Stage
Rolling out their acoustic show deep in the heart of the venue. A rare blend of palpable excitement and ethereal beauty. Seamlessly flowing from one to the other. Bringing together the absolute cream of their famous after curfew sessions. Honed up to a fine art in the fields and woodland glades of the British underground festival circuit.


Martha Tilston – the voice of an angel. If you know Martha's music no further introduction is needed
Impermanence – the words of Paradox set to the music from the assemble musicians awesome!
Gravy Train – acoustic reggae. Andrew from I-fly's new bag. Upbeat and beautiful rolled into one.
String and Bones – smoky voiced diva. One of the most inspiring new acts to hit the stage in years.
Corneilius – pro-peace, anti-war whichever way you look at it. Vietnam attitude for the current situation.
Andy Shades – passion and grace, a wake-up call for sleep walkers everywhere.


Also featuring the amazingly popular portraiture class hosted by our beloved Wanalena through out the night. Materials provided!


A place for butterflies to find their wing
***
in the Cream Room…

Sangita Sounds
Welcome to the place where hearts and minds can be connected through the global visionary art and music that we share. Harmonically aligned a loving intent, Sangita Sounds bring together some of the finest flavours in the joyful world of sound and light to create a spacious placious. From the delicate spiritual electronica of Miquette Giraudy to the mystical tone of live sitar and tabla with Ramesh Ladwa and Alit Pandaye, we invite you to come and enjoy our spacious grooves and cosmic love that will have you floating in an effervescent fountain of eternal bliss.
LIVE

Harir Band – (Moroccan and Alucian Chaadi music)
Ajit Pandaye and Ramesh Bhai Ladva – Indian classical music with tablar and sitar)
Kuba (lsd) psy-dub
DJ'S

Miquette Giraudy (system 7) dreamtime electronica
Greg Hunter (clubsahara) global grooves
Jaya Jai (shiva selessie) radha funk, deep dub
SPECIAL LIGHTING

Mad Brother Vision
VJ MAGIC

Fractual Billy and Mauxaum
ART BY

Miho Dubgipsy
VAASITY BY

Narottam
DECO

Pixie People
***
in the Red Room…

Whirl-Y-Gig
Whirl-Y-Gig's unique electronic landscapes blend many diverse elements into one cohesive and unifying experience. From heavy dub and funky tribal beats to tropical house and uplifting global trance, the Whirl-Y-Gig Celtic and global, classical and psychedelic rock and even pop, roots and radical. Whether it is African or European, Arabic or Asian. Whirl-Y-Gig finds inspiration from around the world yet it is rooted firmly in the here and now at London's alternative club scene. With a strong and loving life force, the Whirl-Y-Sound it's a musical heart beat for a future global family. Bathed in rainbow rippling lights and wrapped in exotic decor, Whirl-Y-Gig is a festival of delights and a guaranteed quality of experience for people of all ages and places.
WHIRL-Y-GIG PRESENTS

Dj Monkey pilot



WITH SPECIAL GUESTS

Digital Asia -fusing naked beats
Temple Hedz – intelligent electric dance
Swarf – strong Celtic crossover
Astralasia! – new organic line-up and new forth-coming album
***
All of the above is set within the incredibly colourful framework provided by many NGO and charity stalls, spreading gentle awareness, vibrant festival cafes and many creative and crafty stalls.
Next confirmed party will be in October, so don't miss this one!!!
Friday 28th April 2006
SEOne, Weston Street, London SE1
Doors open at 10pm and close at 8am
Tickets : £15 adv (+bf) £17 door
£12 concessions available only on the door with valid and current proof!
Advance tickets available from Access all Areas
also in person from Camden's
Psychedlic Dream Temple – now located in the new glass building in the stables
or
Namaste Holistic Centre – 64 Denmark Road – Camberwell
020 7703 5121

*******
NGO Campaign
For this specific event in April 2006 the Synergy Project team
will support a number of initiatives :


SWAZILAND 2006 : Blood-borne disease project

We will be hosting an info stall throughout the night and a raffle at 5pm in the IDSpiral chillout to raise funds and awareness for this ambitious and important project. Have a read of below Press Release to find out more about it:
"We are a team of ten undergraduates from the Royal Veterinary College, London. We will be going to Swaziland in the summer of 2006 to study the prevalence of blood-borne diseases in cattle, the main source of food and income for subsistence farmers, which comprise the majority of farms. According to a study conducted in 1985, blood-borne parasites such as Babesia infect more than 60% of cattle in some areas of the country, and are endemic throughout Swaziland. After infection, the parasite can kill cattle within 1-4 days. Many farmers only own a few head of cattle, so infection by the parasite can have devastating effects on small-holdings.
Our research aims to re-assess the challenge posed by and levels of infection of blood-borne diseases within Swaziland's cattle population today. Farming methods and veterinary techniques have changed drastically over the past twenty years, and as these diseases are transmitted via ticks, they can be relatively easily controlled.
Over the past twenty years, the HIV epidemic in Africa has reached unprecedented levels. In 2005 Swaziland had the highest HIV infection rate in the world. HIV and AIDS is decimating the working population of sub-Saharan Africa and leaving families without ways of earning an income. If we can control the number one killer of cattle in Swaziland, we can help poverty-stricken families and farmers maintain a basic income and source of disease-free nutrition in what is becoming an increasingly challenging era."
Inside us All, the talented visual crew, are once again joining forces with Synergy to spread awareness and information about their charity projects in India.
Here is from their Project Press Release:
"Presently working with four community development societies based in India, each project exists to develop a basic level of education for children within poverty stricken areas.
From our recent visits and our ongoing help, each school made us more conscious of their under-developed resources.
The children suffer in immensely tough environments, often orphans or outcasts of unstable families. With problems ranging from child prostitution, gambling, drugs, domestic violence & crime their lives are ruined at a very young age.
Each project we've chosen to support is successfully providing hope and opportunity to the kids. Courses in basic math, language and crafts are helping children to develop skills and enabling them to interact within society.
One of inside-us-all's main objectives is to work directly with children ourselves. By building our own education centre, by supplying educated and diverse individuals to one specific project. inside-us-all hopes to construct its own place of learning. Over the next few years we will be travelling to and from South America to develop relationships with communities enabling us to work towards a more creative option for slum / village children. We look forward to any help you can offer this project.
This project will be our long term direction, and we are looking for skilled volunteers, teachers, renewable energy experts, international communicators, political experts & individuals with a flare for life.