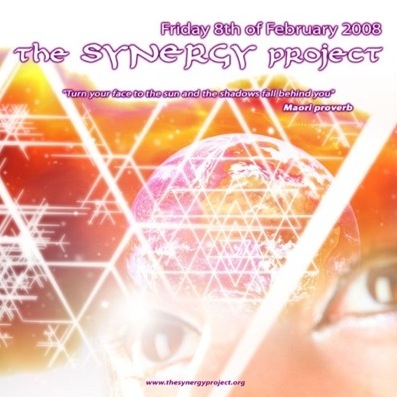 (click image to see full flyer)
Participating NGOs
Find the rooms: layout of venue.
More pictures at Photographicon
---
The Synergy Project
Friday, 8th February 2008
Starting at 10pm and finishing at 8am
SEOne Club London Bridge, Weston Street, SE1 London UK
Synergy is a magical indoor festival, combining musicians, Djs, Vjs, performers, and artists from all corners of creativity, joined by various proactive NGO's and charities with the expressed aim to make a difference.
Synergy strives to create an optimistic approach in raising awareness on the many crucial issues affecting our world today. The events gather some of the UK's leading creative multimedia organizations joined by international NGO's such as Oxfam, Survival, Speak, Ecoshelter, Greenpeace, Campaign Against Climate Change and many more.
Throughout the venue you will also find : Charity Stands, Workshops, Talks/Debates, Healing Areas, Organic cafes, and the friendliest vibe in London!
In the main room…

Kundalini
Bringing The Kundalini Illumination Experience to the Synergy Project

Taking psychedelic trance to the next level, a fully synchronised journey in music, light and sight. Travel from World tribal grooves to progressive trance and its obvious conclusion…
Full on power with cosmically enhanced vibrations… inward, outwards, onwards and upwards. Explore breath-taking resonating gateway portals developed with the aid of media sculptured installations.
Exquisite party production by The Liquid Faeries with The Extra Dimensional SpaceAgency (E.D.S.A) Portal Activators Shiva Monkey & Agent Colours + plus rhythmically combined Hyper Dimensional & Visuals by Saucereyes.
Featuring:
Tron (Live)
(Liquid Records)
Previewing second upcoming album…

Funky and unique psy-trance sound of Mexico.
http://www.myspace.com/tronmexico


OOOD (Live)
(Organic, Phar Psyde Records)
Performing tracks from the next new album "FourThought"

Psychedelic Trance live Trio!
http://www.myspace.com/oood
Blue Pyramid
(Kundalini)
Previewing new full On psychedelic trance album Bendy Space, lift off…hold fast to the centre !!!
http://www.myspace.com/kundaliniparties
Yellow Magnetic Star
(Kundalini)
A beautiful fresh new groove album, drenched in chill out organic texture, summer tribal music and south American pulsations
http://www.myspace.com/yellowmagneticstar
Djs:
Crispy
(Flip Flop/Alchemy recs)
Exclusive – showcasing new material from Flip Flop and Sketchy Pimps
http://www.myspace.com/flipflopmusic
Steve Kundalini
Sun Drenched Tribal Grooves

Playing that tribal sun in the groove sounds, breaks and rhythms sprinkled with extra Asian spice, unconditional love vibration sound
http://www.myspace.com/kundaliniparties
Andy Mason
(Kundalini)
Titin Moraga
(Yellow Magnetic Star)
Tom Fu
(Liquid Records)
Kundalini events move through the different body chakra illumination centres reconnecting us, so giving an opportunity for release on the dance floor; taking you all the way…
Spiritual partying consciousness into the domain of your spirit!
***
in the blue room…
Folktronica
Folktronica events gather artists from sophisticated contemporary forms of music born from the encounter between traditional live instrumentation and computer generated sound manipulation. A harmonious blend of the organic with the synthetic which has given birth to a new evolution of sound. Folktronica and the IDSpiral Glitch-Out join forces to bring Synergy yet another experimental chill out experience.
Featuring:
Port Royal (Live)
(Resonant Recordings)
Italian shoegaze/post-rock band exploring everything from glitchy beats to ambient overlaid vocals.
http://www.myspace.com/uptheroyals
Digitonal (Live)
(Toytronic / Seed / Just Music)
Live cinematic electronica
http://www.myspace.com/digitonal
Winterlight (Live)
(Tigershade(mrc))
Shoegaze Electronica
http://www.myspace.com/timbotoo
Calika (Live)
(Audiobulb Records)
Electroacoustic live bass and laptop dexterity
http://www.myspace.com/calika
Clorinde (Live)
(Folktronica)
Instrumental & cinematic audio/visual performance
http://www.myspace.com/clorinde
Fishimself
(Ultimae , IT Record shop / Freeze magazine Greece)
Liberated melancholic electronica
http://www.myspace.com/freezemgzn
Nova
(Ultimae / Inner Apparat)
Folktronistic grooves from the Italian maestro
http://www.myspace.com/nova_music
Giani
(Native State Records / IDSpiral / Folktronica)
Emotive Glitch Minimalism
http://www.myspace.com/gfabricio
Zak
(Blood Tribe / Maternity / Folktronica)
Shoegaze / IDM Influenced Electronica
http://www.myspace.com/mrung
Production / Visuals by The Pixel Addicts, Inside-us-all
www.myspace.com/folktronica_events
www.thepixeladdicts.com
also featuring
Trees For Cities
Trees for Cities transforms bleak urban landscapes into attractive green space through tree planting and greening projects. By working closely with local communities we create beautiful healthy spaces for the whole community to enjoy now and for the future.
to find out more visit
www.treesforcities.org
***
in the red room…
Skandalous! & Circus to Iraq
Formed after a chance meeting of clowns in the middle east in 2003, the mission began staging fundraising events for circus2iraq. These days Skandalous! can do it where-ever you like, from fields, squats and the desert to fancy town halls – providing a heady mix of beats, breaks, burlesque and badgers, with a hefty dose of circus and cabaret thrown in. Tonight Skandalous! are collaborating with Leftos and Fluorotrash to bring you a one off belter of a line-up…socks will be knocked off
Featuring:
30Hz
(Lot 49)
Breaks/Tech/House
http://www.myspace.com/30hzverticalsound
Baobinga
(fat)
Breaks/DnB
http://www.myspace.com/baobinga
Fluorozone!
Flurotrash meets DreadZone SoundSystem to bring you psychedelic acrobatic cabaret…

Breaks/Dub/Electronica
http://www.myspace.com/fluorotrash
http://www.myspace.com/gregdread
Far too Loud (Live)
Psychedelic Breakz Fusion!
http://www.myspace.com/fartooloud
Gentle Mystics (Live)
Energetic pumping scary circus gyp-hop
http://www.myspace.com/gentlemystics
The Beat Circus (Live)
Big dirty electro breaks with live free-style musicians
http://www.beatcircus.co.uk


Mjoogoo
Tech-funk-breaks sessions
http://www.nsbradio.co.uk
Random Acts of Beauty – breathtaking feats and lunacy from:
Felicity Fyre Le Faye "human body sculptures and visual art"
Electro Circus
Roadkill Cabaret
Ravin Beauties
+ more…
Decor: Leftoshttp://www.leftos.co.uk
Wigathon
Monkey Puzzle Lighting
Visuals by Pixelise + Pixel Addicts + Soulsearch
'Clowns R us' cafe all proceeds to Circus2Iraq
Circus2Iraq are off again to the middle east, almost directly after synergy – bringing smiles and nonsense to Palestine, and Egypt; probably continuing till the money runs out.
http://www.myspace.com/skandalouscrew
http://www.skandalous.org
http://www.circus2iraq.org
***
in the cream room…
Galactic Fantastic
"Galactic Fantastic – we're gonna stretch you like elastic, for this night will be iconoclastic!"

In collaboration with ID Lite and Elestial the Galactic Fantastic room will be draped in full colour symbolising the body's energy centres. Stunning visuals will complete this incredible environment. From the root to crown chakra each energy centre will be revitalised by experiencing: powerful tabla with drum and bass, dance performances fusing Flamenco and Indian and Devotional dance, energetic yet ethereal live music, duelling (fencing) performance, sublime roots acoustic, innovative electronic music and to connect with our tribal roots; powerful didge and pounding drums.The room will host a space for the NGO Ecoshelter, make sure you stop by and find out what they are about and how you can help! www.ecoshelter.org
Featuring:
Subsonar feat. Brother Culture (Live)
(Liquid Sound)
Celebrating new album release, Cool Accident.

Live electronica dub project from Tim Bran – co founder of Dreadzone and member of The Orb – with consciously empowering lyrics
http://www.subsonar.com
Jaysonic (Live)
(Maha-ra)
High energy live Tabla Beats and Ragaa melodies against looped percussive dance licks
http://www.omkreem.org
Pete Ardron
(Orchid Star)
http://www.peteardron.com
Paul Didge (Live)
(Sunrise Celebration)
Full Power Didge with psychedelic grooves
http://www.myspace/pauldidge
Dj Galactic Wind
(Waveform)
Hayereyah (Live)
(Universal Roots)
"A Roots reality message for every soul to feel"

Becs
(Synergy Project)
RE:reaction Pentangle – Specially Commissioned dance
for Galactic Fantastic
Dawn Drumming Circle
Babi Galactic – Passionate Flamenco/Indian dance
fusion
Marcus – Live Duelling
Also featuring Wendalena's Live Portrait Drawing Classes!
***
in the deep blue room…

Synergy Inspiration Hall
At this next event we will inaugurate the birth of the Synergy Inspiration Hall, a space were you will be able to escape from the big sound systems and explore the Healing Area, the Synergy Art Gallery, the Talks & Debates, Theatre / Poetry performances, Sustainability Workshops and late night Acoustic Jam sessions. We hope that in this space you will be able to interact, learn, teach, and inspire, or be inspired by many other Synergy goers to make a difference!
Talks & Debates
'FREE LOVE' – Then and Now…(10.45-11:30)
In anticipation of Valentine's Day Feb. 14 and as the start of the 40th Anniversary year of the 1968 World Wide Social and Political upheavals we have a very Romantic 'in the round' discussion on that our favourite topic, so called 'Free Love'.
We will look at what 'Free Love' meant to people in 1968 as many people started or, in the case of some people, continued rebelling against Traditional Marriage and Romantic Relationships as well as Conventional Sexual Mores. We will then look where we are at in 2008 and the effects that 60's style Free Love has had on us (in the counter-culture and mainstream) both Romantically and Sexually.
The changes for Women, Gay People and various Immigrant Groups will be discussed. Everyone is an expert on this topic so please bring your own views, perspectives and personal stories to the circle discussion on this relevant topic.
Host: Jeff(GoodJeff) Laster
——
SACRED SITES, CONTESTED RITES/RIGHTS: (Midnight-2:00)
As the struggle for the preservation of StoneHenge and various Sacred Sites continues, ROBERT WALLIS, Sacred Sites expert and author of the new book 'SACRED SITES, CONTESTED RITES/RIGHTS' comes to Synergy to give us a detailed overview of the history of Sacred Sites in Britain and an update on the current situation.
He will be joined by various Sacred Sites activists 'King Arthur' Pendragon, Susanna Lafond, Brian VizionDanz and other special guests.
Synergy clubbers will be encouraged to ask questions as well as brainstorm with the panel on what needs to be done in the future to conserve, improve and transform Sacred Sites in Britain.
ROBERT WALLIS is the author of the seminal work, 'Sacred Sites, Contested Rites/Rights' and is widely acknowledged as Britain's top expert on the subject. His previous book, 'Shamanism/neo Shamans: Ecstasy, Alternative Archaeologies and Contemporary Pagans' was short listed for the Folklore Prize in 2003. He has written extensively on the subject of Shamanism and Paganism in numerous journals and on the Net and is a frequent speaker on the subject.
Host: Susanna Lafond
——
Climate Abuse – "getting over the addiction!" by Jonathan Essex (02:00-02:40)
As well as speaking for Talk Action Jonathan works for bioregional who focus on "One Planet Living" – creating the possibility from buildings to community actions for sustainable communities based on a visioning framework developed jointly with WWF.
Green Party – Spokesperson for climate change for the SE. Have also spoken on behalf of Campaign against Climate Change and Green Peace, Green Economics Institute, Christian Ecology Link, Institution of Civil Engineers, LSE and trained by www.bethechange.org.
Biofuels – worse than fossil fuel? By Jim Roland, eco-campaigner (02:40-03:00)
We know we have to shift to renewable energy, so why have biofuels been called "worse than fossil fuel"? Are any biofuels sustainable? A talk and discussion with slides.
Chairperson of campaign group 'Biofuelwatch', an organisation which is striving to ensure that only sustainably-sourced biofuels can be sold in the European Union.
Condemns the burning palm oil fuels as it's a main contributor to climatic change.
Workshops and speaker supplied by Talk Action: Talk Action promotes social and environmental community based education. We have comprehensive database of speakers, workshops, green events suppliers, events management services and climate change training across the U.K. See www.talkaction.org for latest training, joining the directory of services and events listings.
——
Open Mic (03.00-04.00)
Your time to talk about any issues you feel important about! – Host: Brian Viziondanz
Theatre
"Perciphone Petticoat" – Theatrical Poetic Performer. Tickling the Senses and Breaking the Silence of Taboo."
SoulFull Clown: A fun fulfilling short show using mime/music plus spoken word to enlighten and instruct how great we can be.
Workshops
Portraiture Workshops hosted by Wendalena
When did you last go out clubbing and end up sharpening your artistic skills by drawing in a live model class? Wendalena is certainly not your usual club culture performer and with her vibrant charisma she has managed to draw in audiences far larger than the live drawing circle can hold. The classes start at 12.30 am and finish at 3:30 am and take place in the cream room.
Community Scrap Band
Using 'what we throw away' as percussion instruments. A drum workshop that creates a whole orchestra from metal, card and plastic.
Sign of Life
Using everyday signs for inspiration, get creative and make a sign which says what you want to say to the world!
Socktopi and Sea Creature Puppet workshop
A puppet workshop making Octopi and Fish puppets from every day objects like socks and creating 'Socktopi'.
***
And don't miss the synergy Art Gallery, Healing Space and Acoustic Jam Sessions from after the talks till closing =)
***
And don't miss the installation with live video link to the Synergy Project Lisbon happening simultaneously in Portugal!
***
Friday 8th of February, 2008

Starting at 10pm and finishing at 8am @ the SeOne club, Weston Street, London Bridge.
Advanced tickets are available for £15 plus booking fee from our website until Sunday the 3rd of February, or for £20 thereafter and on the door, £17 concessions are only available on the door with valid proof.
If you do not have enough money for the ticket please get in touch with us and find out how you can get involved! =)
Please bring ID if you look like you still might be in your teens.
Please do not buy from touts! You will not get admitted to the club
Online tickets are available via the online shop @
https://thesynergyproject.org or also http://www.accessallareas.org
Physical Tickets from:
Access All Areas – 2nd Floor, 30c Camden Lock Place, London NW1 8AF
InSpiral Lounge 250 Camden High Street, Camden, NW1 8QS 02074285875 www.inspiralled.net
StarTessa – unit 522 Camden stables market (former Psychedelic Dream Temple)
for questions please email info@thesynergyproject.org
Or if you just want to become a friend of Synergy, join us at http://www.myspace.com/thesynergyproject
We are happy to meet you!
Next Confirmed Event: Friday 18th of April 2008
***
and dont miss the:
Synergy Warm Up Party @ Inspiral Lounge
Check out this new venue in the heart of Camden. Born out of the fold of The Synergy Project and IDSpiral this inspirational space offers some of the finest visionary cuisine, raw food treats, super foods and an all organic cocktail bar. Its a space to hang out, bring your kids, work away on your laptop and exchange information.
Only open since the end of 2007 the lounge already runs two regular events – Friday and Saturday's inSpiral nights – cutting edge downtempo electonica artists and multimedia until midnight. Regular singer/songwriter events, film nights and lots more are in the planning…
http://www.inspiralled.net
Featuring:
Dom Spiral
(IDSpiral)
A rare appearance on the decks by the man behind it all. Textural glitchy electronica at its finest.
Fishimself
(Ultimae , IT Record shop / Freeze magazine Greece)
Liberated melancholic electronica
Kuba
(Liquid Sound)
Dub influenced, psychedelic love songs to lift your spirit. Will be playing most of his own material. Enjoy.
Free Entry
See you there!!!
250 Camden High Street – just before the bridge – 30 minutes away from the SEOne on the Nothern Line!