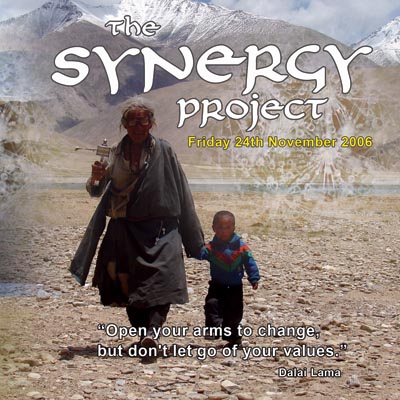 (click image to see full flyer)
Participating NGOs
Find the rooms: layout of venue.
More pictures at Photographicon
---
The Synergy Project
Friday, 24th November 2006
SEOne Club London Bridge, Weston Street, SE1 London UK
After an exciting and vibrant opening to the season, the dynamic Synergy collective gathers once more, bringing together many inspired souls of today, to celebrate a better world for tomorrow.
Synergy is a magical indoor festival, combining musicians, DJs, VJs, performers, and artists from all corners of creativity, joined by various pro-active NGOs and charities.
It is our sincere intention to harness the power of positive celebration and to discuss the many issues affecting our global community. Gently raising awareness of some of the most pressing issues around the world, supporting the work of our collaborating NGOs & Charities, and exposing them alongside other individual campaigns that deserve more attention, to the vibrant, cross-generational and multi-cultural scene which makes up the Synergy crowd.
This new event will feature an incredibly varied mix of different elements:
In the Grey Room…
Pixel Addicts
This innovative and dynamic collective of visual artists presents their first major project in the shape of a captivating social and political audio/visual performance, combining the work of ten different artists, focusing on the joint elements of sound, light, and performance production guiding the viewer on a breathtaking journey through the northern regions of India. Driving over the highest road in the world in a brave attempt to show the dramatic conditions Tibetan Refugees go through everyday to escape Chinese oppression within their native Tibet.
All filmed by the team in HD (high definition) video technology, and combining in-house audio producers alongside some of the freshest sounds to come out of some of the UK's top studios.
The live performance will take place in the main room at 11:00 and is one hour long.
The pixel addict space then continues its deep journey showcasing international Psychedelic Trance and Electronic music pioneers. Proudly welcoming two UK debuts from Fractal Glider and Hydraglyph as well as a stunning new Liquid Records album release.
Full Line-Up:
Inside-Us-All ***Live***
Audio:Visual Set: "Free Tibet"
Working alongside: Tibet Relief Fund
Audio Contributors: Coldcut / Gaudi / Mood Deluxe / Slackbaba / Server One / Horns of Jerhico / Misty Oldland and Dee
Fractal Glider ***LIVE***
Tribadelic Australia UK Debut
www.users.bigpond.com/fractalglider
Hydraglyph ***LIVE***
Sansakra / South Africa UK Debut
www.myspace.com/hydraglyph
Darshan
Previously Flying Rhino Records
www.fusionanomaly.net/darshan.html
Liquid Ross
Liquid Records Presenting new album, 'Divine Inventions'.
www.liquid-records.com
Rob Triskele
Triskele Management
www.triskelemanagement.com
Lurk
Sonic Dragon / Boom Records
www.boomrecords.com
Simon B
Twisted Records UK
www.twisted.co.uk
Video Projection and VJs:
Pixel Addicts & Bubblevision
Affiliated Stalls:
Tibetan Relief Fund
Trees for Cities
www.inside-us-all.com
www.tribeadelic.com
www.sanskara.co.za
www.tibetsociety.com
www.treesforcities.org
www.bubblevision.co.uk
***
In the Red Room…
Speak
Inside the walls of the World's Biggest Dress SPEAK and their angelic dancers, in association with Art Nation,facilitate your seamless journey through gentle electronica, fused with the mystical sounds of the harp, to global beats & energy of Future World Funk. Hearts and minds connect in a vision of a just and sustainable future for the workers of the global fashion industry.
SPEAK is a campaign and prayer network, raising awareness of issues of global justice, conducting Trade Justice' and Counting the Cost of Arms Trade campaigns. SPEAK's room will focus on justice for workers in the fashion industry. Aiming to inspire a shift in consumer choice as well as asking for legal accountability for Trans-National Companies.
Line-Up:
Mix Master Morris
Textured global soundscapes & ambient grooves
www.myspace.com/theirresistibleforce
Russ Jones***LIVE***
Future World Funk Gypsy Beats & Balkan Bangers.
www.myspace.com/russjones1
Spiritual South ***LIVE***
Latin American Beats & African Jazz Funk.
www.myspace.com/spiritualsouth
Keirets ***Live 10 Piece Band***
Fusing World, Classical, Jazz, Funk & Folk Melodies with upbeat baselines.
www.myspace.com/keirets
Simon Jinadu (Beauty Room) ***LIVE***
Inner soothing with the ambient/meditative soundscapes of The Third Movement.
www.myspace.com/thebeautyroom
Ross Harper – Psy Chill & Ambient Sound.
Gabi & Lovers Electric Live acoustic sets
Performance Poets including Skinfiltr8r (Holland), MC Stopha (Upper Room), Jula, (Poland), Frantastic & The Fashion Victims.
Meet stilt walkers, Ulli Flaemig & the harp-playing dancing angels.
Also featuring Wendalena LIVE portrait drawing class
***
In the Blue Room…
binglybongly
It has become increasingly apparent that music can have a significant effect on our emotional and physical well-being. binglybongly was established in 2001 to promote better living through positive, energizing music of many genres.
Line-Up:
Akasha ***LIVE***
Incendiary live 6 piece – the original purveyors of noirish Jazzadelic music.
"the church of sonic research gonna set you free"
www.myspace.com/akashamusic
Mezzowave ***LIVE**
Electro-fusion cinematic soul band, featuring Angie Brown (Bizarre Inc., Fatboy Slim, Happy Mondays), Lifford David (Artful Dodger) Kevin Davy (Lamb, KDQ, Adam F).
www.myspace.com/mezzowave
Teresa Gabriel ***LIVE***
powerful, mystical voice with guitar and poetic licence
www.myspace.com/teresagabriel37
DJs:
Fluffy Lynn – funky eclectic lounge & chilled out grooves
Rich Morley – exotic flavored beatz and grooves
Jon bongly – world beats & bobs
Stefan the Selector – Eclectic Lounge Beats
Pete Ardron – upbeat dubby chill
Others:
"You look different from what you thought you might have felt like"
– live performance by Body.
"Flower Freak" – animations of Dre's elastic face.
"Kwali & Kan"
Decor by Fabricate & binglybongly
Visuals by Jaime Rory Lucy
***
in the Deep Blue Room…
EdensoundS
London-based underground music collective with a reputation for delivering musical diversity through a wide variety of events as well as their now infamous mixed-genre dance floors. Tonight in the intimate space of deep blue, EdensoundS is proud to host Synergy's second official dance arena, showcasing a logical progression ranging from chilled-out dub to full-on and ferocious euphoric and progressive trance. EdensoundS is a welcome island of chavness in the Fluro Ocean of the modern psychedelic trance scene & Expect the unexpected!
Line-Up:
The Alchemist
The London fetish scene's most prolific DJ plays what he likes & With added psy-trance &
Sounds From The Ground ***LIVE***
***CANCELLED DUE TO BOOKING MIXUP***
Nusphere & Didji-Tall Paul ***LIVE***
Fusing electronic chilled-out & dance beats with live didge harmonies…
http://www.myspace.com/nusphere
Peace & Pepster ***LIVE***
Italian house, breaks and trance producer Peace, showcasing 5 years of the superb 're-birth' album series…
Disco Patrick
Freshly returned from a tour of the US including an appearance at Burning Man, EdensoundS is proud to host the UK's most creative and innovative breaks and psy-breaks DJ…
www.myspace.com/patrickheneghan
Miszt
One man on a mission to raise standards in progressive, euphoric and hard trance…
www.myspace.com/misztifiedmind
Jurrane
Producer, record label owner, DJ and promoter- Jurrane mixes up a breathless sprint to the finishing line…
www.jurrane.com
Chillout with DJg
I can't get no sleep…
Environment by Cocoon, Leila Bryan & EdensoundS
Visuals by Hyperthesis & friends
Smiles by you and us
www.edensounds.net
www.hyperthesis.com
Glow toy performances throughout the venue by the Jedi Jugglers
www.jedijugglers.co.uk
***
In the Cream Room…
IDSpiral
Synergy's resident chill-out organization is probably best known for its textured and dynamic line-ups, the unique visual style of its interior design, its gentle, reflective and yet full power flow & acclaimed for hosting breathtaking areas at festivals such as Glade and Glastonbury, this dynamic group will surely take you on a full spectrum sensorial journey.
For this event IDSpiral is joining forces with the:
Tithandizane "we help each other" benefit campaign.
To that effect they will host a raffle in aid of this Primary Health Care Centre in Eastern Zambia helping to raise awareness and support for this outstanding project.
Line up:
Tratosphere ***LIVE***
Downbeat rhythms meets dubby moods, sprinkled with funky jazzy elements,
Switzerland based live trio storms London with a fresh wave of psychedelic sounds.
www.tratosphaere.ch
Oddur ***LIVE***
Beautiful raw tunes from Icelandic songsmith, former guitarist of Lamb and Lou Rhodes.
www.myspace.com/oddurmusic
Zoe Young ***LIVE***
(sunshine on a rainy day) – mesmerizing gentle songs
www.myspace.com/87128430
'Introphecy'– Next generation Butoh/live art/dance. Performance: Sara Popowa Soundtrack: Jon Tratnor
Ambiens Indages Collaboration with Teresa Gabriel and flute magician Rafael Beznos. A.I. takes us from our collective memory to imaginary places inspired by a free and constructive philosophy.
www.chilloutzone.org
Murray Lachlan Young Surreal satire, wicked whimsy and dark ramblings over windswept soft verges.
www.myspace.com/murraylachlanyoung
Giani (Native State Records) Glitched out electronica from one of IDSpiral's finest…
www.nativestaterecords.com
Also featuring switched on short films in-between, spontaneous dance performances featuring you all nourished by the unmistakable IDSpiral organic café…
Talks and Debates
1)ANDY LETCHER, 'SHROOM author talking about MAGIC MUSHROOM scene and current state of psychedelic scene in general
10:10-11:10
Writer, lecturer and musician Dr Andy Letcher will give an illustrated talk about his new book, 'Shroom: A Cultural History of the Magic Mushroom'. The magic mushroom was only rediscovered in the West fifty years ago, but has accumulated all sorts of folktales and urban legends along the way. In the book Andy strips away the myths to get at the true story of how hallucinogenic mushrooms, once shunned in the West as the most pernicious of poisons, came to be the illicit drug of choice. Chronicling the history of the magic mushroom from its use by the Aztecs of Central America and the tribes of Siberia through to the present day, he takes a critical and humorous look at the drug's more recent manifestations. The talk will end with a more open discussion about the pros and cons of contemporary mushroom use.
2) PREM HOBDEN and RAW POWER
11:10-11:30
Prem Hobden is a very gifted gourmet raw food chef who has been sharing his passion for gourmet health food across the world through his classes and retreats. Since the age of fifteen he has been researching and experimenting in the field of peak health after curing himself of an apparently irreversible juvenile arthritis from a diet of mainly raw organic food and juices. Since going to Australia he has further developed his skill and passion for creating unbelievably healthy dishes that are unbelievably good! and now he is in the UK! He will try and give you a taste of his raw food classes where you can learn how to:
– Create a huge variety of sumptuous meals with minimal preparation and without ever turning on an oven.
– Become vibrantly healthy and happy without sacrificing taste or pleasure.
– Lose weight while you eat like a king (or Queen).
– Free yourself of diseases and ailments without medication.
– Develop eating habits which will bring you a sense of inner peace and well-being.
– Free your children (and yourself) of many so-called behavioral problems
Prem is excited to be at Synergy and will share his skills and recipes with the Synergy audience in the hope that they will be inspired by the raw food lifestyle.
3)PETE PHOENIX..SQUATTING AND DIRECT ACTION LEGEND reviewing the past and looking at the future of squatting and direct action
11:30-12:30
Phoenix is a direct action veteran of Twyford Down, Solsbury Hill, M11, Criminal Justice Bill '94, Newbury, Wandsworth and StGeorges Hill. Since '92 he has squatted the BCCI bank, Rainbow centre in Kentish Town, St Georges Theatre in Tufnel Park and various other buildings as action centres leading to an agreement with Circle 33 Housing Assoc for a 13 room mansion in Hampstead as the Circle Community Centre. Phoenix is currently preparing a manual for squatters. His talk will review the squatting and direct action scene he has been a prominent part of and with the SYNERGY audience's help, look at the best ways of moving it further on.
4)JEWDAS…first of Jeff Lester's ALTERNATIVE SPIRITUALITY presentations about the New Wave Rave Generation Judaism
12:30-1:00
Synergy Talks host Jeff ("Good Jeff") Laster has been working in the alternative culture since the later sixties, both in the united states and in Britain. Formerly a radical activist, since 1993 he has specialised in organizing talks and debates of interest to the rave generation, putting on such events at clubs and festivals as well as helping to bring theatre to the rave scene in the form of the acclaimed WARP play. His aim is "Edutain" by bringing relevant political, cultural and spiritual presentations to the alternative scene, examining and or portraying various aspects of current issues, agendas and belief systems.
Jewdas is the focus point of radical Judaism in the UK and beyond. Promoting hemisiche culture on acid, jewdas whips up Talmud, satire, heresy and cream cheese into a chicken soup of underground Diaspora culture. Jewdas fully supports the Anglo Jewish establishment and would never criticise the state of Israel .
Jewdas will bring the spirit of Eastern Europe to Synergy with manic singing dance and storytelling that will transport you to the Steppes of Russia, or at least to Stamford Hill. Not your average introduction to Judaism……..
Presenting also a talk and debate hosted by Good Jeff Lester
1)ANDY LETCHER, 'SHROOM author talking about MAGIC MUSHROOM scene and current state of psychedelic scene in general
2)PETE PHOENIX..SQUATTING AND DIRECT ACTION LEGEND reviewing the past and looking at the future of squatting and direct action
3)JEWDAS…first of Jeff Lester's ALTERNATIVE SPIRITUALITY presentations about the New Wave Rave Generation Judaism
4) PREM HOBDEN and RAW POWER- a very gifted gourmet raw food chef who has been sharing his passion for gourmet health food across the world through his classes and retreats.
***
This time the event will feature support for:
Tithandizane Project "we help each other"
A Primary Health Care Centre, Eastern Zambia
1 in 6 adults & children are HIV+ in Zambia.
The Tithandizane Health Centre aims to reduce the suffering of the 20,000 people of the Kamuluza district & to empower them to have more control over their health, particularly with regards to HIV/AIDS. The centre runs a clinic, does HIV testing, gives residential care for those dying of HIV and runs an education programme.
The centre desperately needs condoms & medical supplies to continue its vital work.
A raffle will be held at Synergy to raise money to buy these vital supplies.
Please visit the Tithandizane stall to offer your support.
Or you could help by sending supplies direct to the project.
Contact Clare at tithandizane@yahoo.co.uk
***
Synergy – inclusive to Smokers and Non-Smokers alike…
As many of you will know Synergy is one of the pioneering clubs that supports the peaceful (and healthy) coexistence of smokers and non-smokers alike. To this effect we are designating large areas that are clearly marked as non smoking. We have received much support for this attempt – thank you to all who help us achieve this.
***
Friday 24th of November 2006
Starting at 10pm and finishing at 8am
The venue is the SeOne Club, Weston Street, London Bridge
Advance tickets are available for £15 plus booking fee from our website,
or for £20 on the door. £15 concessions are only available on the door with valid proof.
Please bring ID if you look like you might still be in your teens
Please do not buy from ticket touts! You will not be admitted.
Online tickets are available via the online shop at
https://thesynergyproject.org and also www.accessallareas.org
Order over the phone from +44 (0)20 7267 8320
Physical Tickets from:
Access All Areas – 2nd Floor, 30c Camden Lock Place, London NW1 8AF
Psychedelic Dream Temple, Camden Lock
and
The Synergy Centre, 220 Farmer's Road, Camberwell SE5 0TE Tel 0207 7931083
for questions please email info@thesynergyproject.org
If you want to become a friend of Synergy, join us at www.myspace.com/thesynergyproject
We are happy to meet you!
Next confirmed events: 2007
Friday 9th Feb / Friday 30th March / Friday 11th May
Remember the Windows XP operating system? You can work with it online at GeekPrank.com and trick your friends.