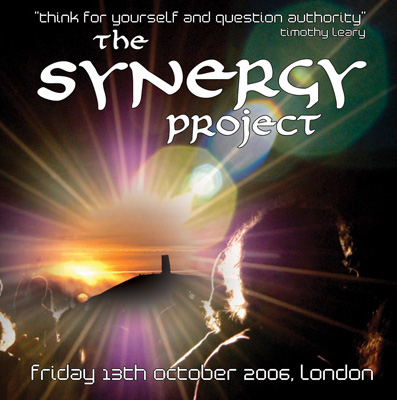 (click image to see full flyer)
Participating NGOs
Find the rooms: layout of venue.
More pictures at Photographicon
---
The Synergy Project
Friday, 24th November 2006
SEOne Club London Bridge, Weston Street, SE1 London UK
The dynamic collective of the Synergy community returns to bring together the many inspired souls of today, to celebrate a better world for tomorrow.
Synergy is a magical indoor festival, combining musicians, Djs, Vjs,performers, and artists from all corners of creativity, joined by various proactive NGOs and charities.
Synergy strives to create an optimistic approach in raising awareness on the many crucial issues affecting our world today. The events gather some of the UK's leading creative multimedia organizations supported by international NGOs such as Oxfam, Survival, Speak, Greenpeace, Arc, and Campaign Against Climate Change, to provide just the right mix of open hearted enjoyment and meaningful reflection for a new direction.
And here are the key players:
In the main room…

Psycle
Nottingham based full power psychedelic trance pioneers bring their
very dazzling vibes, creativity and magic to the empowering Synergy
Project dance floor for the first time. Hosting a Wild Things Live act
– Reality Grid, celebrating the new release of OOODs 3rd album Free
Range & 12th birthday, as well as the London debut for their
resident live acts – Aeon and Silentsound!
Reality Grid (Wild Things) ***LIVE***

Oood (Organic Records) ***LIVE*** presenting 3rd album Free Range

Aeon (Relativity Records) ***LIVE***

Silentsound (Psycle) ***LIVE***
Barclay (The Synergy Project)
Petran (Psycle)
Caveman (Psycle)
lighting: metam psychosis & dooza
decor: psycle & friends
visuals: inside-us-all
sound: fushion
***
In the Blue Arches…

Liquid Records
Synergys resident Electronica label, bring together their cutting edge
multi-media diversity to showcase in-house future releases from the
Uks most successful and creative underground label.
Nagual Sound Experiment ***LIVE***

Showcasing long awaited debut album 'invisible movements' … an alchemical sonic mix of Dubstep, PsIDM and Electronica

Organismic ***LIVE***

Showcasing their forthcoming debut album….seriously phatt psy dub, breaks and drum and bass
DJ Tom Fu – Presenting an exclusive mix of his downtempo compilation 'Soul Vibration..002'
DJ Si Splatt –Spinning a blend of contemporary psychedelic electronica and funky beats
DJ Agent Smith – Finishing it of with some funky electro and groovy breaks
A:V Liquid Djems – A showcase of the liquid labels audio and visual delights..
A:V Arc i – A conceptual audio visual presentationtrue psychedelic cinema
"Liquid Records, rock and roll but not as you know it"
***
In the Red Room…

Peace Not War
Formed in 2002 to produce a big name fundraiser for groups opposing the
IRAQ War, Peace Not War has since evolved into an independent peace
movement co-operative that runs festivals, club nights and gigs of all
flavours. From Bashment to Bangra, Folk to Jungle and Hip-Hop and
of-course a few acoustic guitars. Peace Not War brings to you a range
of international music with a message.
The Pistachios – (9 Piece Bucket of Funk)

Gravy Train – (Reggae Revolution)

MC Angel + DJ Shorty + Bass6 – (Conscious Hip-Hop)

Excentral Tempest – (Full Live Hip-Hop Band)

The Rub – (More News Service than Band)

DJ Rubbish – (The Black Eminem)

Babar Luck – (Acoustic Hip-Hope Soul)

Jamie Woon – (Loop-station Soul and Acoustica)

DJ A.Lorenzo – (Bassline House & Booty Breaks)

DJ Jah Light – (Reggae and Dub)

DJ Paula Daunt – (Drum n Bass Electronica)

Mudge – (Aussie Hip-Hop DJ)
***
In the White Room…
S
mall World
10 hours of high-energy live bands and Small World
magic… Synergy's resident live stage returns fresh and rested after
the summer festival season to charm you with a unique combination of
warm smiles, cheeky characters, and swirling dance.
Tarantism – (celtic/techno/dub/ska)
Mordekkers – (driving celtic acoustic trance)
Snap dragons – (root ska)
Loosh – (live drum n' bass / ethnic funk)

Interwoven by dj Pony – (funk / jazz / latin / drum n' bass)

and recordings from the small world…
With guest: dj Real
Also featuring Wandalenas live portrait drawing classes
Fair trade cafe, walkabouts & chill out area
***
In the Deep Blue Room…

Sangita Sounds
Welcome to the Sangita Sounds space,
where once again we marvel at the infinite variety of beautiful music
and art. It is our pleasure to share the spiritual energy of the earth
and the cosmos, through the magical music and art of our assembled
musicians, producers, DJs, dancers and artists. From the luscious,
sweet toned Classical Indian flute of Ashok Kumar, to the Mystic depths
of sound explored by Greg Hunter, we invite you into the Heart Cave.
With en eye on the infinite, let us explore together the web of
humanity that binds us and unites us.
Sangita DJ's
Nick Manasseh
Original Dub vibrations from the Avalonian dub master (Shiva Selassie)
Greg Hunter
Mystic musician, sharing original music from his Dubsahara incarnation (Dubsahara)
Noodreem
Fusion sounds from the heart with a magical blend of ethnic electronica (Sangita Sounds)
Jaya Jay
Dub warrior with a deep and spiritual sound (Shiva Selassie)
Jon B
Sangita resident future funkster, with a special blend of psychedelic grooves. (Sangita Sounds)
Sangita LIVE
Ashok
Bansuri (Indian flute) with tabla accompaniment, from from the holy town Varanasi, India
Bindoo Babas
the last gig of the year in the UK for these spiritual groovers, playing their unique style of gypsy reggae
Miho Mizumachi
Enchanting and evocative wind instrumentalist from Japan
Elif Tarakci & Dancers
Our favourite Belly Dancers uplift with a lively dance performance
Visionary Art ~ Alchemy & Miho Dubgipsy
Vaastu ~ Narottam
Visuals ~ Tantric Billy
The event will host a series of
presentations by various speakers on different aspects of Timothy
Learys life, his ideas, and his influence on the Alternative Culture.
Followed by a debate on whether his ideas on psychedelics help or harm
the counter culture.
***
Talks and Debates
"TUNE IN TURN ON DROP OUT-DATED PARADIGMS" A TRIBUTE TO TIMOTHY LEARY, 10 YEARS AFTER HIS DEATH.
HOST: GOODJEFF LASTER
WELL KNOWN RADICAL ACTIVIST FROM THE SIXTIES, WHO SPECIALISES IN CREATING 'INTELLECTUAL HAPPENINGS' FOR THE PRESENT DAY COUNTERCULTURE DEBATING ISSUES OF RELEVANCE FOR THEM IN RAVE AND FESTIVAL SETTINGS..
Talks segment will be in two parts:
1) 10:00-12:00 – Tim Leary's life, his ideas and his influence on the Alternative Culture:
SUSANNA LAFOND is a veteran RainBow Warrior and radical activist who
helped scatter the ashes of Tim Leary on Glastonbury Tor. Video footage
of the event will be presented. She will speak about the growth of the
alternative hippie culture and how Leary impacted on that.
FRASER CLARK was the founder of the Zippies and alternative rave clubs
who took the best ideas of the hippy movement and merged them with the
emerging paradigm of the rave generation, helping formulate a rave
consciousness based on techno shamanism. Fraser hosted Tim Leary at his
San Francisco alternative rave club Megatripolis and will show how Tim
impacted on the rave generation as well as the hippie generation.
BRIAN BARRETT was a legendary character from the Beat Generation who
was Tim Leary's best friend in Europe, and has unique insight into Tim
Leary's life as well as insightful views about psychedelics. He is
author of THE ROAD OF EXCESS which chronicles his adventures with Tim
Leary.
JOHN HIGGS is the author of an inspiring new biography of Tim Leary
called I HAVE AMERICA SURROUNDED and will read abstracts from his
book, show video footage, as well as take questions about Tim Leary's
life and ideas.
JOANNA HARCOURT-SMITH is best known as the 'wife' and companion of Tim
Leary. She is also a writer and thinker about spiritual issues and
hosts the META-HISTORY PROJECT. Joanna will talk about her life with
Tim Leary and take questions from the audience.


LEE HARRIS is one of the founders of the modern English psychedelic scene
and creator of Alchemy the legendary psychedelic shop
CHRIS STONE is a well known counterculture author
who will oppose some of Tim Leary's ideas
—
2) 12:00-1:00 Synergy Debate: Tim Leary, Saint or Sinner? Did Tim Learys ideas on psychedelics help or
harm the counter culture?
The panellists and audience will examine the ideas of Leary in context
of the reality of psychedelic drug use by the alternative culture from
the 60s until now. The panel will comprise the previous speakers plus
special guest experts on psychedelics and psychedelic usage.
The debate etc will take place in the deep blue arches, which will be hosted by Sangita Sounds.
To find out more about Timothy Leary, please visit:
http://en.wikipedia.org/wiki/Timothy_Leary
The Synergy Project will also continue to support its NON-SMOKING
initiative in some areas of the venue. We hope for your understanding
and collaboration.
Glow toy performances throughout the venue by Jedi Jugglers
***