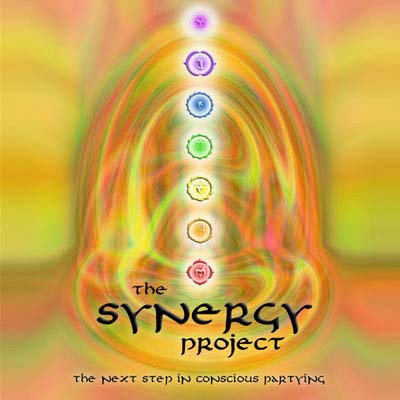 (click image to see full flyer)
Participating NGOs
Find the rooms: layout of venue.
---
The Synergy Project
Saturday 22nd March 2003, 10pm – 8am
SEOne, Weston Street, London SE1
£15 / £10 Concessions (students, unemployed, partner NGO members)
The first ever Synergy Project – now almost a legend in its own right
certainly the starting point to an exciting and fresh era in the UK clubbing culture
We are writing to you from the city of London(UK), aware that some of you are spread all
around the world. A world that seems to be culminating day by day, hour by hour towards
an unforeseeable and unstoppable madness, tainted by peoples' greed and hypocrisy.
It is in these times that we are inviting you to have a look at what we call
'the next step in conscious partying'… "in times like now?" you might ask.
Yes, in particular in times like now do we need to further our sense of community,
based on different models than the ones known and sold to us
by the mass media and international corporations.
Do that aim we will combine the best of London's underground culture with those working
in the holistic campaigns area, actively making a difference in our every day lives.
This will not only be a event buzzing with the best that London's alternative communities
have to offer but also full of information, conscious films, visuals, speakers
and possibilities to start making a difference yourself.
From the NGO and charity front we are working closely with:
Greenpeace
Stop the War Coalition
Indymedia
War on Want
Corporate Watch
Tourism Concerned
Actionzone
People's Earth Decade
Inomad
Anti-Apathy
Recycle
To name just a few
All this will take place at the SeOne club in South London, under London Bridge Station. 5 huge arches (3000+) will provide the frame for international artists and local talent to open our hearts and heads, so vital at this point in time…
The arches will be hosted by no one else than:
IDSpiral
Altered States
Liquid Connective
Indigenous People
Small World Stage
Puma Punka Healing
The peace flame that is still kept alive since the atrocious drop of the nuclear bomb on Hiroshima at the end of the second world war will also play a significant role in the event, being displayed in altars in every room and ignited by an inauguration ritual just after midnight. Equally be aware that this event coincides with the spring solstice, a strong symbol for renewed and refreshed energies!
The Synergy Project by the way is set up as a charity and is therefore not profit orientated!
If you still have patience please find the lineup for the event underneath, an impressive reflection of the diversity of this unique event.
Altered States…
– Altom live PA (Spunrecords/Tip World – France) first UK appearance
– Rinkadink – Live PA (Nano Records – South Africa)
– Stella Nutella (Turbotrance – Sweden)
– Jamie Robinson (karma)
– Lucas (Tip World)
– Patsy (Liquid Connective/Altered States)
– Liquid Ross (Liquid Connective/Altered States)
Visuals performed live by: EVP, Billy Tantric and Inside-Us-All
Decor by Iain Dub, Liquid LSD, Luna Lis Oneirical and Altered States
for more info email alteredstates@mail.com
***
IDSpiral Mellout…
– Aes Dana (Ultimae/France) Psychorganic live – first UK appearance ever
– the Kumba Mela Experiment (LSD) performing live East of the River Ganges
– RGB Technoburlesque (trance theatre, agit pop)
– Mix Master Morris (Ninjatunes/UK)
– DJ Mudra (IDSpiral/UK)
– Earshot Cinema with DJ unknown
– Dance Experiment by Sandra
– Lata (ethnic fire dance)
– activist speakers and loads more to come
also presenting visuals by:
– Revelation GoGo Broadcastign (live Psinema)
– Matt Black (coldcut UK)
– Billy Tantric (Brixton)
Artwork and Installations by:
– Neo Dogma Non — creating human awarenes for human awareness
(http://www.neo-dogma-non.org)
– Sculptures by Lightlife
– Dreamscapes by IDSpiral
We shall also be surving you as usual our finest magical chai and supply
you with organic snacks!
for more info check http://www.idspiral.org or email info@idspiral.org
***
Small World Stage…
straight from the outdoor solar-powered festi-feel to the flamboyant
indoors:
featuring live:
– Babyhead (festi-ska hip-hop)
– Tarantism (live celtic dub ska techno)
– Space Goats (legendary festival psychedelia)
– Mouse (Darlings of the Green Festivals)
– DJ sets from Pony and Thomas
Visuals by Illuminatis + a vivid brew of street performers, carnival
people, sofas, loungers and the small world fair trade cafe!
***
Liquid Chill…
– Chillage People live (audio visual performance /LSD)
– Toires (Dakini Records/Twisted – France)
– Dr. Alex Patterson (the ORB)
– Unity Dub (LSD)
– Tom Fu (Liquid Connective/Altered States)
– Gandolfi (Liquid Connective/Altered States)
– Entropy (Liquid Connective/Altered States)
Visuals by:
– Captain Crystal, iData, Billy Tantric, Chillage People and Insided-Us-All
– Decor and Comforts from Liquid Lounge, Skymermaid, Mad Brother Vision and
Mr. Rossi
for more info check http://www.liquidconnective.org or email
info@liquidconnective.org
***
Puma Punka Healing…
Gateway of the Lion – presenting alternative therapies including Reiki,
Sekhem, Massage, Inversion Therapy, Crystal Healing, Crystal Nets, and much
more…
Also featuring a conscious cinematic experience in truly heart opening
surroundings, a participatory performance and workshop space, fully vegan
cafe and info chill area, focusing on alternative medicine, healing
knowledge, spiritual development and the mayan calendar. This is an
ultimate respect area and will be a smoke fee and shoe free zone!
Synergy Projections Project
Curated by Revelation Gogo Broadcasting, Indigenous People and Frolic.
A montage of moving and still images sourced from the NGO community
addressing issues surrounding peace, sustainable development, ethical
trading, social justice, environmental protection and spiritual
development, edited by the alternative community's finest VJs
***
Hope to see you there
The price on the door will be £15
Doors open from 10pm to 8am in the morning
The date is Saturday the 22nd of March.
Please also be aware that children are not allowed in the venue!
Be streetwise and discreet!!!
And bring love and respect – we all need it!