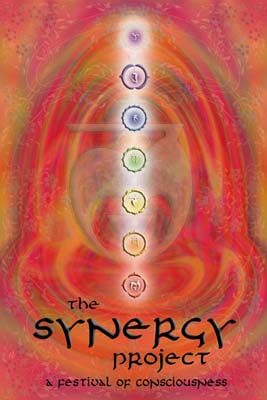 (click image to see full flyer)
Participating NGOs
Find the rooms: layout of venue.
---
The Synergy Project
31st May 2003, 10pm – 8am
SEOne, Weston Street, London SE1
£15 / £10 Concessions (students, unemployed, partner NGO members)
a festival of consciousness
the Future – a reflection of the past – an insight and yet another step forward…
…or so we hope on this trajectory to making a difference!!!
As most of you are aware we launched the Synergy Project, an ambitious and high reaching concept, on March the 22nd with a spectacular and highly colorful launch party at the SeOne club in London Bridge.
We had set out to bring our friends in the alternative and underground movement in touch with those working in the holistic campaigns arena, and vice versa. More content and focused intention for the party scene, more actually making a difference and turning heads even in not so closely related and affiliated scenes. A reflection of our turning times – certainly a step forward from simple, hedonistic party concepts…
So how far did we get?
Many tribes and talents seem to have been present at this inauguration event, reflecting the diversity of our community – just as the many different rooms and performances did.
Many NGO's (Non Government Organizations) and charities were present in the shape of info areas and some provided speakers for the varied rooms to get their messages across. For the event coming Neo Dogma Non, a talented and upcoming arts organization, is teaming up with a number of NGOs in an effort to connect them to artists from within the community. The aim is to collaboratively produce either an installation, performance etc to convey the NGO's message in a more digestible shape.
Also once again we are hoping to switch on more and more of you out there by providing meaningful and awakening visuals throughout the venue, a project that is overseen by Revelation Gogo Broadcasting.
The date and place for the next Synergy Project manifestation is the 31st of May and the location is once again the SeOne club.
We chose to go back to this venue after long and careful deliberations, mainly due to complaints we received regarding security. We are well aware that what happened last time was pretty unacceptable and well below our expectations, however, the venue has proven most collaborative and helpful in its attempt to alter the situation for the future.
We have been guaranteed that security personal present last event will not work again, they will also be batched up and identifiable, an independent security manager is now installed to monitor their behavior and we are included and participating in the briefs they receive before the night. So if all goes well this time should be an even more overwhelming experience.
We now also have our very own team of Stewards who's sole responsibility it is to make sure that you are having a safe and pleasant time.
So what else is going to be different? Well, how about this one:
The main room, formerly our dance floor, is now hosting the Conscious Chill, a synergetic approach to create a fully stimulating and mind/heart opening environment – hosted by IDSpiral (http://www.inspiral.co), Liquid Connective (http://www.liquidconnective.org), Revelation Gogo Broadcasting, Festival of Flight and Neo-Dogma-Non.
The Conscious Chill brings together a collaborative mix of performance art, poetry, dance, live music and conscious video installations with chill-out sets from OTT, who is performing live for the first time ever his latest release Blumenkraft as well as Hallucinogen in Dub (http://www.twisted.co.uk), Mix Master Morris (Ninja tunes), Liquid Djems, Gandolfi and Luna Lis (Liquid Connective).
Conscious highlights include performances by the Fairtrade Foundation and Anti-Apathy, the political empowerment vehicle sponsored by the New Economics Foundation. The renown AV artists Yeast (http://www.yeastdirections.org.uk ) will provide an hour long set, next to poets Paradox, Whatshername (RGB Wordsmith), a Dance Peace in collaboration with Solarquest, our in-house MCAsher and many other talents.
The room will also feature arts installations by Neo-Dogma-Non in association with partner organisations such as War on Want, the Gaia Foundation, Tourism Concern, Recycle, Action Aid, Rubba Luvva and Friends of Falun Gong. Images from the latest direct action protests sourced by the alternative news agency Indymedia and a montage of conscious images from Revelation Gogo Broadcasting, projected onto 6 screens throughout the room, will complete the Synergistic mix.
The Altered States room will feature leading artists from the London and international trance scene, playing funky, uplifting psychedelic grooves. Confirmed line-up includes two UK debut LIVE acts, firstly young Israeli prodigy Fatali will be debuting new material from his forthcoming album 'Moments'. Balearic resident artist Earthling also joins us for his first UK date with new exclusive tracks from the famous Tri-Ball Studios, home of GMS. Alchemy master and wizard Shane Gobi joins the DJ team, along with Astral Phoenix/Hommega main-man Astral Mike. Chameleon, resident DJ for ID Spiral, Liquid Ross and Wrong-Un resident DJs for Liquid Connective and Altered States also join the cast.
Adding to the sensory display will be Inside-Us-All, globally acclaimed LIVE visual three piece, mixing conscious visuals with spectacular patterns and textures, in collaboration with Free Tibet Campaign. Altered States' set agenda for sustainable power sources within the club scene will also be showcasing the reality of Solar Technology Intelligent Lighting, powered by the Photon Generator charity, keeping it clean and green.
The Indigenous People / Sangita Sounds room, featuring the world debut performance of the club fusion set by Kakatsitsi, Master Drummers from Ghana, will further push back the frontiers of club culture. Layering the traditional, organic sounds of traditional African drumming and chanting on to a stripped down Western dance track, the fusion set will be accompanied by the Ancestral Voices Ritual, a participatory dance led by Ashera Hart and members of Kakatsitsi to restore a greater degree of intent and purpose to the otherwise structureless and at times vacuous western dance floor.
Projections of images sourced from Kakatsitsi's home community of Jamestown, Accra and those of images of tribal peoples from around the world contributed by Survival International will provide the context for the ritual. Additional performances by stand-up political poet, Mr Social Control, Revelation Gogo Wordsmith Whatshername and Shamanic Rapster John Crow of Southwark Mysteries fame will explore the social context of Southwark and London.
The Small World Stage will present the cream of the UK's alternative festivals bands, including Seize the Day, recently nominated for the listener's award in Radio 3s World Music Awards but controversially disqualified for unduly political campaigning. Also Jambience, a three piece ensemble from France and the UK, are bound to set the audience on fire with their exhilarating guitar, sitar and percussion swirls.
This overall vibrant and alive stage will also be joined by Los Albertos with their renowned festi-funk and for all those who prefer the more gentle and soothing side of hands on music Semble will provide sufficient dreamscapes to drift away to. All this is framed by the Tao Warriors, a poetic dance performance from the 491 Gallery, cosmic consciousness from Paradox and of course DJ sets from Thomas and Pony (Small World Stage) themselves. Illuminitis will be continuing the idea to use video projections and live footage as a powerful means to send messages and activate people's awareness.
Finally, the Puma Punka healing area will bring together practitioners from the London alternative health scene. Techniques applied include Reiki, Shiatsu, Sekhem, Massage, Crystal healing and Crystal Nets and reach as far and adventurous as PIP Aura photography. A powerful and involving ritual will open the gates to the energy flow of the night in true ceremonial style commencing at midnight.
Further into the experience of this deep and soothing journey the Puma will spread his wings to ascend to a Sufi master moonlight tai-chi performance, middle eastern dance meditation, workshops and info from the Planet Art Network and films from Indymedia and other conscious exerts. Deep healing soundscapes will be provided by Sangeve Rupal plus Sacred Songs (daime chants). Info Chill Area (Speak Network/Friends of the Western Buddhist order) will also be provided.
We have now also created the entrance area as a separate area altogether, a point of first contact; we will aspire to welcome you in full synergy flavor and style.
Slowly we feel a community forming underneath our very own feed, broadening our possibilities, enabling us to go even further. Bit by bit we can feel the spark catching on and we know that we are making a difference because people's lives are being touched. Slowly we are living up to what we set out to do and we know that it is important work that needs to be done, now, right now, and not later…
We are an organism in growth, always on the lookout for you and your talent. If you would like to involve yourself in any shape or form please drop us a line at info@thesynergyproject.org . We are currently still looking for responsible people to help us with the stewarding quest.
Until then and beyond, stay in the light…
May the summer shine on us with full force this year…
Kindest Regards
the Synergy Community
***
Line up as follows:
Altered States Psy-Trance Room…
in association with Free Tibet Campaign
LIVE – Earthling (acidance – Ibiza) first UK appearance
LIVE – Fatali (alchemy records – Israel)
Shane Gobi (alchemy records)
Chameleon (ID spiral)
Astral Mike (astral phoenix/hommega)
Liquid Ross (liquid connective/altered states)
Wrong-Un (altered states)
Intelligent Lighting Powered by Photon Generator Solar Technology
Live Visuals by Inside-Us-All
Lighting and Décor by Liquid LSD, Sky Mermaid, Luna Lis and Altered States
***
Conscious Chill Out…
Hosted by ID Spiral, Liquid Connective, Revelation Gogo Broadcasting,
Festival of Flight and Neo-Dogma-Non
LIVE – Ott (twisted/hallucinogen in dub) first ever LIVE performance
LIVE a/v – Liquid Djems (liquid connective rec)
Mix Master Morris(Ninja tunes)
Gandolfi and Luna Lis (Liquid Connective)
Conscious highlights include performances by the Fairtrade Foundation and
Anti-Apathy, the political empowerment vehicle sponsored by the New Economics Foundation
The renown AV artists Yeast – http://www.yeastdirections.org
will provide an hour long set, next to poets Paradox, Whatshername (RGB Wordsmith)
Dance Peace in collaboration with Solarquest
installations by Neo-Dogma-Non in association with partner organisations
such as War on Want, the Gaia Foundation, Tourism Concern, Recycle, Action
Aid, Rubba Luvva and Friends of Falun Gong
***
The Indigenous People 
and Sangita Sounds…
LIVE – Kakatsitsi (master Drummers from Ghana)
Ancestral Voices Ritual, a participatory dance led by Ashera Hart and members of Kakatsitsi
Projections of images sourced from Kakatsitsi?s home Stand-up political poet – Mr Social Control
Revelation Gogo
Wordsmith
Whatshername
Shamanic Rapster John Crow of Southwark
***
The Small World Stage…
LIVE – Seize the Day
LIVE – Jambience (france/uk)
LIVE – Los Albertos with their renowned
LIVE – Semble
Tao Warriors (poetic dance performance/491 Gallery) Paradox
DJ sets from Thomas and Pony (Small World Stage)
Live video projections from Illuminitis