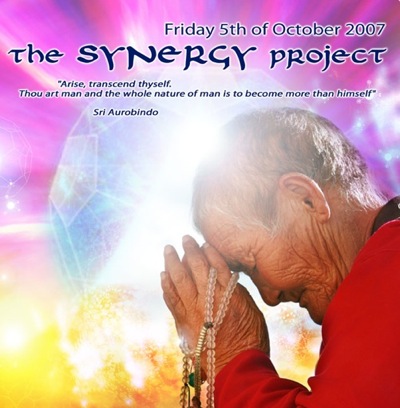 (click image to see full flyer)
Participating NGOs
Find the rooms: layout of venue.
More pictures at Photographicon
---
The Synergy Project
Friday, 5th of October 2007
starting at 10 pm and finishing at 8am
SEOne Club, Weston Street London Bridge, SE1 London
Synergy is a magical indoor festival, combining musicians, DJs, VJs, performers, and artists from all corners of creativity, joined by various proactive NGOs and charities.
As an eventful and elemental summer rolls into autumn, the UK's Conscious Party massive withdraw to our indoor hideaway for the colder months. Deep in the bowels of London, The Synergy Project aims, once more, to both entertain and educate, challenge and inform and, lest we get carried away with ourselves, to listen, learn and evolve interactively with the ideas and intentions of all who attend. Less a party and more a festival underground, it is hard to overestimate the diverse range of talent that is aired here. Leave your expectations at home, bring what you hope to find, and join in the dance and the debate in this growing conscious experiment.
Throughout the venue you will also find : Charity Stands, Workshops, Talks/Debates, Healing Areas, Organic cafe's, and the friendliest vibe in London!
Here is the menu for the next event:
in the Main Room…
Liquid Records
Psychedelic Trance delights and the future of Psy Breaks once again collide in an awesome showdown, pushing the genre right onto one of London's biggest dance floors! Showcasing new and fresh Trance and Breaks from one of the UKs freshest and brightest alternative dance labels. Not forgetting one big drop of visual delight; and exclusive trip designed especially for this show by resident artists Inside-Us-All and Fluffy Mafia.
www.liquid-records.com
Presenting:
Braincell – LIVE
(Glowing Flame – Switzerland)
Ripping Psy Trance for the Twilight hours
www.myspace.com/braincellstudio
Beatnik – LIVE
(Liquid/Nano Records)
Full power psychedelic trance with a touch of funk and groove
www.myspace.com/beat_nik
Mood Deluxe – LIVE
(Liquid Records)
Psychadelic Trance and Breaks Behaviour
www.myspace.com/mooddeluxe
Rex – LIVE
(Sinister Records)
Ultra Magnetic Psy Prawn Crocadelica
www.myspace.com/rexonrexoff
DJs
Wilkie
EXCLUSIVE Psy Breaks DJ set from London's Legendary DJ and International Skating Champ
www.myspace.com/wilkielondon
Liquid Ross (Liquid Records)
Morph (Liquid Records)
Deco and installation: Fluffy Mafia and Inside-Us-All
Visuals: Pixel Addicts
www.myspace.com/fluffymafia
www.thepixeladdicts.com
Glow toy performances throughout the venue by the Jedi Jugglerswww.jedijugglers.co.uk
***
In the Red Room…
Maternity Presents Square Roots
Square Roots was started in 2006 to provide Brighton with an
alternative club night showcasing the finest in electronica, dubstep, jungle and many other genres. This event celebrates the launch of Square Records, a new label that will bring the bass from the dancehall and on to the streets.
For more info, visit www.myspace.com/square_roots
Presenting
Boxcutter (Live)
(Planet Mu/Hot Flush)
Perfectly bridging the gap between dubstep and intricate electronica.
www.myspace.com/barrylynnmusic
Digital Mystikz – Coki
(DMZ)
Influential in the shaping of the aesthetic of dubstep and the standard of the DMZ label.
www.myspace.com/dmzuk
Pinch
(Tectonic/Planet Mu)
Dj Pinch's deep progressive sets have become a firm favourite with dubstep audiences.
www.myspace.com/tectonicrecordings
Nagual Sound Experiment (Live)
(Liquid Records)
Celebrating the launch of the debut album 'Invisible Movements'.
www.myspace.com/nseliquid
Various Production (Live)
(XL Recordings)
Genre bending electronica and heavy dancefloor rhythms.
www.myspace.com/various
Ital Tek (Live)
(Planet Mu/Square Records)
Currently cementing his reputation as one of the freshest producers around.
www.myspace.com/italtekmusic
Neek
(Sureskank Convention)
Classic dubstep from this member of the Dub Pit Collective. Murkle.
www.myspace.com/middlemanandneek
Introducing
Shook Sound System
A brand new label specialising in slick, immaculately produced and intelligent forms of Urban Psychederelict Music
www.myspace.com/shookrecordings
Sick Rebel
(Blood Tribe/Voodoofreqs)
Psy infused Electro Dubstep
www.myspace.com/sickrebeldubstep
VJs: Inside Us All
Visual Installation by: Pixel Addicts
Decor: Maternity
www.inside-us-all.org
www.myspace.com/pixel_addicts
www.myspace.com/maternitygroup
***
in the Blue Room…
IDSpiral
IDSpiral returns with our unique blend of atmospheric stimulation. As the nights draw in, we aim to bring some warmth to your soul with a melange of veteran ID Spiral djs, talented newcomers, sublime acoustic acts and established international electronic musicians, against a transcendent backdrop of cutting edge visual art from the forefront of UK vjs and decor designers. As ever, all served up with a cup of chai..
Presenting
A Guy Called Gerald (Live)
Exclusive live set from the acclaimed sonic pioneer
www.myspace.com/aguycalledgerald
Cinephile (Live)
Cutting edge electronica from the Glasgow based three-piece band.
www.myspace.com/cinephileonline
Mauxuam (Live)
(Interchill Records)
Infectious grooves and psychedelic wizardry from the Italian maestro.
www.myspace.com/mauxuam
Sparlha Swa (Live Accoustic)
Folk soul borne from a velvetine clash of impeccable vocals and haunting modal chords.
www.myspace.com/sparlhaswa
Mayra (Audio Visual Set)
(E-Gaia.net)
A journey through vision and sound depicting the challenges that climate change brings about to our world.
www.e-gaia.net
Aliji
(Liquid Records/IDSpiral)
Electronic eclectica – Aliji constantly redefines himself, but the quality remains unchanged…
www.msypace.comalijimusica
Naked Nick
(IDSpiral)
Long time ID Spiral resident leads an expedition through the ambient beatscape.
www.myspace.com/nakednickmusic
Zak
(Maternity/IDSpiral)
Experimental fusion delights from the Maternity Ward.
www.myspace.com/mrung
Also featuring Wendalena – LIVE portrait drawing class
The classes start at 12:30 and finish at 03:30am – don't miss it! – all materials provided.
***
in the Cream Room…
Misztfiedmind
Misztifiedmind Records presents an eclectic mix of hi-nrg dance muzik, from breaks to trance to dnb, we have only one aim tonight, to bring you our uplifting and fluffy misztified vibe that was born in the forests of England, we hope it will let you explore a place you may not have been to before…forget your preconceptions!
Our urban influence lineup has inspired us to bring you info and action possibilities from London groups dedicated to dealing with the roots of the Gang & Gun culture that has been slowing taking a grip on so many young lives in the UK's capital.
zubzub (Live)
(Eat Static/Ozrics)
If you've seen them before, you know what they do, if not, dont miss them! Eclectic Psy dance from this awsome 5 piece band.
www.myspace.com/zubmusic
Far Too Loud
(Funkatech)
Breaks Poll 2007 Best single winners, the name says it all!
www.myspace.com/fartooloud
Nusphere (Live)
(Misztifiedmind Recs)
Trance and Breaks
www.myspace.com/nusphererecordings
Kipster
(Insurgence/Misztifiedmind hypnosis)
Hard Trance, if you like it faster, this is where you should be…
www.myspace.com/kipstercrew
Trancetheory
(Misztifiedmind Recs)
Trance & Progressive with Randomness
www.myspace.com/misztikal
Silky
(Misztifiedmind Recs)
Liquid DnB
www.silkydj.com
Darko
(Misztifiedmind Recs)
Dub DnB & Jungle
www.misztifiedmind.net
Trixta
(Happy Nation)
Oldskool Broken Beats Hardcore
Emersive UV environment by VisualBliss & Misztifiedmind UTSc
http://misztifiedmind.net – http://uktranceforum.com – http://myspace.com/misztifiedmind_records
***
in the Deep Blue Room…
Small World
A musical treat deep from the heart of the venue. A top draw line up of intense, beautiful and inspiring artists from the UK's Alternative Folk and Underground Acoustic scene. Also hosting the Synergy in-house healing temple – a refuge for all troubled souls in need of comfort and support
Featuring
Paprika Balkanicus
The Eastern European sensations of the festival season.
Rodney Branagin
Dual Guitar genius form the USA.
Two Man Ting
Ghanaian/UK African folk duo
School of Trobar
The finest new duo to grace our stage in years.
Theresa Gabriel
a mystical voice and an orchestral guitar singing the travels in the dreamtime
www.myspace.com/teresagabriel37

www.smallworldsolarstage.org
***
Talks & Debates
A series of talks & debates will be held throughout the night in the Small World stage area.
Host of Talks: Jeff 'GoodJeff' Laster, creator and host of Talk events at Parallel-Youniversity, The Warp Experience and Synergy Project who has worked in the CounterCulture since the late Sixties. Co-host: Susanna Lafond, Circle Community, StoneHenge guardian and legendary activist for many progressive causes.
'TOO YOUNG TO DIE': THE SYNERGY VIOLENT YOUTH CRIME DEBATE.
The killing of 11 year Rhys Jones in Liverpool was the latest in an 'epidemic' of attacks on and tragic killings of young people around the UK. Often the killers/attackers were young people themselves, who were usually part of various violent gangs. Many explanations for these horrendous crimes have been suggested: Poverty, Cultural Values, Lack of Male Role Models, Decline of Traditional Religion, Moral Vacuum, Race, Racism, Impotent Policing, Government Indifference, the list goes on and on.
SYNERGY brings together a varied panel of 'experts' consisting of people from various walks of life who will debate with each other and with the Synergy audience the causes of and possible solutions to the problem of Violent Youth Crime in the UK.
Featuring on the panel on the night will be Wizdom, (of Green Jade) who works from a Christian perspective with inner city youth and gangs , Camila Batmanghelidjh who runs the amazing Kids Company for young people in need, Norman Brennan (Victims of Crime Trust), an active cop and well known media commentator, who has tirelessly supported the victims of violent crime and Will McMahon (Centre for Crime and Justice Studies, Kings College) who has studied the youth crime problem in depth. The Synergy audience will be encouraged to participate in exploring this all too topical issue. In addition there will be rehabilitated ex-offenders called on to give their opinions.
'LET'S SPEND THE NIGHTS TOGETHER': THE SYNERGY 2007 SUMMER FESTIVAL OVERVIEW!
This Synergy debate will be one of the most exciting and unique events in the history of Alternative Clubbing and should not be missed
This summer there were more Alternative Festivals than ever in the UK. SYNERGY Talks will look at how the Festival Scene evolved this year both on land and at times, due to flooding, underwater! Glastonbury, Sunrise Celebration, BuddhaField, Glade, Big Green Gathering, RainBow Gathering, StoneHenge Solstice and many more alternative festivals will be focused on. Various promoters and workers and festival goers from the Summer of 2007 will give their opinions and analysis. That could mean you, so prepare to reveal your Summer of 2007 Festival opinions and experiences. And if anyone went to Burning Man, please let's hear from you, someone burnt the Man several days early!!
——
Workshops
PORTRAITURE WORKSHOPS
hosted by Wendalena
When did you last go out clubbing and end up sharpening your artistic skills by drawing in a live model class? Wendalena is certainly not your usual club culture performer and with her vibrant charisma she has managed to draw in audiences far larger than the live drawing circle can hold. The classes start at 12.30 am and finish at 3:30 am and take place in the deep blue room
MASK MAKING WORKSHOP
Put your best face forward
The mask making workshop will give you a chance to make a simple mask that you can wear on the night and have fun with! You could also make a personalized mask in time for Halloween. Each mask will be built upon individual ideas and will give participants the chance to interact and explore their imagination by being creative. We will assist them and show them different models that they can use as examples. They will have a choice of keeping the mask for themselves and taking them home with them as a great memory of the Synergy Project .We will also provide the recycling bin for unwanted masks that we could recycle. We will supply all the materials.
TIME FRAME FOR WORKSHOP: This is a 2 hour workshop, from 1-3am and is planed for the next Synergy event that is taking place on 5th October 2007. SPACE PLANNED FOR WORKSHOP: Entrance area.
***
Join the Commons Creation!
"Commons Creation is a network of individuals and groups who pool resources and work together to raise funds and awareness for world changing land, money, and media projects.
Co-ordinated by United Diversity (http://uniteddiversity.com), The Synergy Project has already signed up as a Founder Member of the collective, and has so far been joined by Peace Not War (http://peace.fm), OneTaste (http://onetaste.co.uk), Movimientos (http://movimientos.org.uk), Sunday Sounds (http://myspace.com/sundaysounds) and the P2P Foundation (http://p2pfoundation.net).
For more details about Commons Creation and how YOU can sign up as a Founder Member visit http://commonscreation.org NOW!
We Are Everywhere. Together We Have Everything!"

***

Starting at 10pm and finishing at 8am @ the SeOne club, Weston Street, London Bridge.
Advanced tickets are available for £15 plus booking fee from our website until Sunday the 30th of September, or for £20 thereafter and on the door, £17 student concessions are only available on the door with valid proof.
let us know if you don't have enough money for ticket and find out how you could get involved
Please bring ID if you look like you still might be in your teens.
Please do not buy from touts! You will not get admitted to the club
Online tickets are available via the online shop @
https://thesynergyproject.org or also www.accessallareas.org