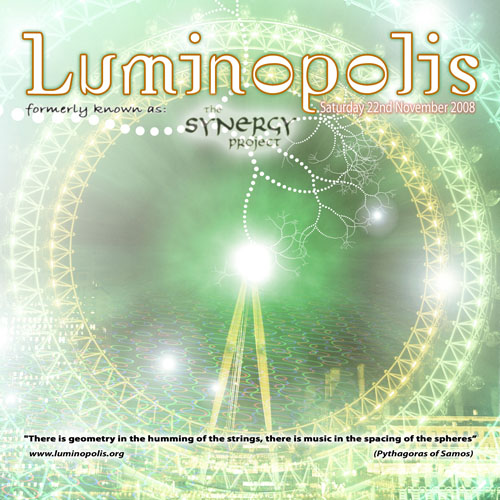 (click image to see full flyer)
Participating NGOs
Find the rooms: layout of venue.
More pictures at Photographicon
---
Luminopolis, 22nd November 2008
Starting at 10pm and finishing at 8am

SEOne Club London Bridge, Weston Street, SE1 London UK
Luminopolis (formerly The Synergy Project) is a magical indoor festival, combining musicians, Djs, Vjs, performers, and artists from all corners of creativity, joined by various proactive NGO's and charities with the expressed aim to make a difference.
Luminopolis strives to create an optimistic approach in raising awareness on the many crucial issues affecting our world today. The events gather some of the UK's leading creative multimedia organizations joined by international NGO's such as Oxfam, Survival, Speak, Ecoshelter, WDM, Down2Earth, Greenpeace, Campaign Against Climate Change to provide just the right mix of open hearted enjoyment and meaningful reflection for a new direction.
In a society in which generally perceives clubbing as a form of escapism associated with values of transgression, Luminopolis re-invented the clubbing experience by transforming it into an 'educational' tool, associating healthy values of sustainability and social justice to strong role models such as respected artists and performers of the entertainment industry. Creating awareness with more efficient means to reach directly a young audience that might be otherwise reluctant to receive, respect, and incorporate such messages when proposed by conventional sources.
For the past 5 years Luminopolis continues to inspire people from all walks of life to re-evaluate their views on club culture and beyond…
***
In the main room…
Liquid Records
Liquid Records has been causing quite a stir in both the psy-trance and downtempo genres worldwide lately. Despite the label's relative youthfulness, Liquid has been highly successful at creating a new front and cranking out a serious amount of highly sought-after, blockbuster tunes. Liquid's artists both in the psychedelic trance, downtempo and electronica fields have been coming together from all over the world and reworking the old definitions of their favourite music into something new, turning quite a few heads in the process… the end result is inexplicably revolutionary! http://www.myspace.com/liquidrecordsuk
Producers / Live Artists:
Agent 17 – UK Debut
(Liquid / Spiral Trax – Sweden)
Fresh new progressive project from trance veteran S>Range.
http://www.myspace.com/srangemusic
Tron
(Liquid Records – Mexico)
Full on trance and with a very deep psychdelic curve, and debuting fresh new tunes from his Bio Logic album.
http://www.myspace.com/tronmexico
DJs:
DJ Pollyfonika – UK Debut
(Frakasound – Mexico)
Deep morning psy trance from one of Mexican's most sort after DJs.
http://www.myspace.com/djpollyfonika
Luke Porter
(Tribal Vision)
Progressive, Tribal, Techno grooves from the master DJ and producer.
http://www.myspace.com/djlukeporter
Morph
(Liquid Records)
Funky progressive techno sound from Liquid's progressive chief.
http://www.myspace.com/andymorph
Beatnik
(Liquid Records)
Exclusive DJ set of his fresh new material and also the best psytrance from the Liquid box.
http://www.myspace.com/beat_nik
Jeremy
(Liquid Records)
Deep cutting full on psy trance, debuting new material from his Quantum FX album.
http://www.myspace.com/jeremyliquiduk
Liquid Elf
(Little Green Planet)
Deep hypnotic psychedelic flavors from one of London's hottest DJs.
http://www.myspace.com/liquidelf7777
Decor: Liquid Drops and Little Green Planet
Visuals: Extra Dimensions Space Agency
***
in the red room…
Blood Tribe Records
Born from the desire to experiment with altering and expanding the sonic framework of Dubstep, Electro, Hip Hop, IDM, 2-Step and Breakbeat, Blood Tribe represents artists that cross the boundaries that define musical genres, with a common theme of an unprecedented addiction to the manipulation of the lower frequencies… http://www.myspace.com/bloodtriberecords
Producers / Live Artists:
Jazzsteppa
(Hot Flush / MG77)
Fearsome Horns and driving Basslines from this Berlin based live Dubstep band.
http://www.myspace.com/jazzsteppa
Lawgiverz
(Botchit & Scarper / Trigger)
Holographic Bassforms from the 23rd Century Reptilian Hydro-Rokk duo
www.last.fm/music/Lawgiverz
Groove Diggerz
(Breakin Even Records)
Techy and Phat Bass line dirt from this Breakspoll winner.
http://www.myspace.com/groovediggerz
Nagual Sound Experiment
(Liquid Records / Blood Tribe)
Psychedelic soundscapes and dirty Dubstep basslines.
http://www.myspace.com/nseliquid
Screenager
(Blood Tribe Records)
Highly charged, sonically explosive, atomic drop dance music.
http://www.myspace.com/thescreen
DJs:
Ana Sia
(San Francisco – USA)
Low-end love with deep dubstep, midtempo breaks, & glitch infused Psy-Hop.
http://www.myspace.com/anasiamusic
Adam Symbiosis
(HarderFaster.net)
PsyBreaks set from the versatile Dj and music journalist!
http://www.myspace.com/adamsymbiosis
WhipperSlacker
(Blood Tribe | Future Music)
Intelligent Bass Music from the man behind Blood Tribe Records.
http://www.myspace.com/whipperslacker
Greedy
(SureSkank)
Mysterious former elevator music composer. Escapes from institution. Plays Beats.
http://www.myspace.com/greedydub
Visuals: Inside Solutions
***
in the Cream room…
Fish Seeks Bicycle Presents Eden Atlantis
Keeping strictly on the side of a good old fashioned knees up, Fish Seeks Bicycle returns with aplomb to host its special blend of colourful full frontal mayhem. "People that love it love to see other people that love it loving it!" This full powered renowned festival production troupe guarantees frivolous fun and the most diverse frank music programming you could wish for. Their infamous parties are not to be missed, where wild and wacky dress is actively encouraged. There are few rules- so let your hair down and go out with a bang.
Prizes for best dressed… The fish matching sticker game… The fish food cafe… Plus many more weird n wonderful surprises. http://www.fishseeksbicycle.com
Live Artists:
Mr Doris and the Horns
This man has funk, soul n jazz to his core with all the beats on top making him one of the best loved backroom dj's in Europe.
http://www.myspace.com/mrdoris & http://www.myspace.com/bangrecords
Brothers Bab
An eclectic blend of original ska, calypso and two-tone tunes.
http://www.myspace.com/brothersbab
The Cosmics
The greatest Ska band you've never heard of!? Fantastic secrets are still out there – prepare to be blown away by their distinctive tight skatalite style sound.
www.myspace.com/themightycosmics
Freefall Collective
(Resin Records)
Going from strength to strength the mighty freefall have taken their ground shaking breakbeat sounds far and wide, rocking audiences to their very core. Get in and get jumping. www.freefallcollective.com
DJs
Head of State
(crafty rascals and head-of-state-recordings)
Squeezing the juice of the finest, freshest funk threads, afro-beat, latin and disco business to get the evening swinging.

Captain Grimace Whacky
Delightful rhythmical, rhyming poetry tales.
Chris Pedley
The best eclectic global mixed beats you love and have never heard.
www.myspace.com/thebakerbrothers
The Crafty Rascals
Juicy Electro Breaks n funky filth- No tea Breaks!
http://www.myspace.com/thecraftyrascals
DJ DeQueer
Swing n ting.
http://www.myspace.com/ben_devere
DJ Funtimes
All the classics u want to go home to.
also featuring Wendalena's Portrait Workshop
Learn how to draw portraits of live models!

***
in the Blue room…
Inspiral Lounge
Born out of the creativity and ethos behind IDSpiral and The Synergy Project, the inSpiral concept is a unique approach to healthy living, creativity and the world of tomorrow. The inSpiral family have set out to inspire you with some of the finest of what the universe of nutritious food has to offer, uplift you with delicate and cutting edge music, intrigue you with multi-media visual art, thought-provoke you with conscious films and books and send you off with some innovative ideas for your future, which is ultimately all of our future…
On this special night inSpiral joins Luminopolis for an evening of cutting edge live electronica, performances, groovy DJs and of course their inspiring organic cafe.
Producers / Live Artists:
Rumpistol
(Rump Recordings – Denmark)
Beautiful harmonic structures topple over spiralling rhythms, leaving you spell-bound.
http://www.myspace.com/rumpistol
Libelula
Wonderful hypnotic electro with sensuous vocals, irresistible hooks and elegantly understated orchestration.
http://www.myspace.com/libelulamusic
Mint
(Boltfish Records)
Playful nursery rhyme tunes accompanied by stuttering beats and atmospheres, or heartfelt cinematic style compositions.
http://www.myspace.com/mintspace
Z-Arc
(Boltfish Records)
Mostly ethereal and melodic, occasionally industrial and gritty, frequently multi-textured.
http://www.myspace.com/zarcmusic
Halogen
(Maternity)
Organic electronica previewing material from his new EP.
http://myspace.com/halogenbulbs
DJs:
Nova Vs Giani
(Ultimae and Native State Records)
Masterfully interwoven chill grooves by the electronica connoisseurs.
http://www.myspace.com/nova_music and http://www.myspace.com/gfabricio
Naked Nick
The closing set from inSpiral resident. Epic + Musical. You know it makes sense.
http://www.myspace.com/nakednickmusic
Aliji
(inSpiral / Liquid Records)
Warm up set from inSpiral resident containing the correct ingredients to set the tone of the evening.
http://www.myspace.com/alijimusica
Performace Act:
Light Hands
This loved mess of a city, light and shade weave us and its walls together, our forms, transient as dust that hangs in a sunsplintered room. The speed of this city, its rythm and breath, exhales a thousand soft moments of stillness, together twinned we exist, just as her hand reaches out and grabs us… we spin faster, and faster.
Decor: Extra Dimensions Space Agency
Visuals: Nadine and Vj OmBoy
***
in the deep blue room…
Luminopolis Inspiration Hall
A space for ideas and creativity to seed and blossom. Featuring talks, debates, and films on important issues and what we can do about them. Also featuring inspiring performances from spoken word performers, and an open mic spot for all who feel inspired to express themselves. In the other 2 arches you will find creative workshops, the art gallery, and the healing room with massage and alternative therapies.
Talks, Debates, Films & Presentations
Hosted by Alex Lee and Leah Eatwell
Zeigeist Addendum – The film of the moment. A truly enlightening and mind-blowing explanation of the banking system and society in general. Followed by Q&A with the film's director Peter Joseph. www.zeitgeistmovie.com
"Where Can I Live Now?" – A discussion on how the current chaotic economic climate affects us, and what we can do about it. Exploring conventional and alternative solutions to the housing crisis. With guest speakers from Housing co-operatives, Land Trusts, Squatting networks, and others tbc.
Polly Higgins (WISE Women network) – Big Solutions to Climate Change
Open Mic with Brian Viziondanz
Performances
Twindove featuring Antarma – East meets West mystical fusion
Workshops
Soctopi – recycled sock puppets and masks
Things We Love – draw what you love
Drum Jam – drums provided
Wendalena's Portrait Workshop – Learn how to draw portraits of live models!
(located in the Cream Room with Fish Seeks Bicycle)
plus the Luminopolis Art Gallery featuring paintings by Andrew Jones, David Randall, and Emma Watkinson
additional deco by Freakadelic
***
Saturday 22nd November, 2008
Starting at 10pm and finishing at 8am @ the SeOne club, Weston Street, London Bridge.
Early Bird advanced tickets are available for £15 plus booking fee from our website or for £20 thereafter and on the door. £17 concessions are only available on the door with valid proof. If you do not have enough money for the ticket please get in touch with us and find out how you can get involved! =)
Please bring ID if you look like you still might be in your teens.
Please do not buy from touts! You will not get admitted to the club
Online tickets are available via the online shop @
luminopolis.org or also www.accessallareas.org
Order over the phone from +44 (0)20 7267 8320
Physical Tickets from:
Access All Areas – 2nd Floor, 30c Camden Lock Place, London NW1 8AF
Inspiral Lounge – 250 Camden High Street, Camden Lock, NW1 8QS
StarTessa – unit 522 Camden stables market (former Psychedelic Dream Temple)
for questions please email info@luminopolis.org


FREE ENTRY with a "Green Card"
Every other home in the UK can save money by changing to a green energy tariff.
It tariff takes just 5 mins, slashes your CO2 footprint and could save
you £192/year.
Visit www.realpeoplepower.org/luminopolis NOW to see if you can
change to green. Make the change by 2 weeks prior to the event to gain Free Entry to Luminopolis!
Or if you just want to become a friend of Luminopolis, join us on Facebook and Myspace.
***