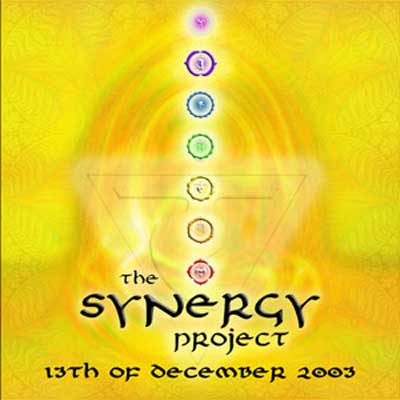 (click image to see full flyer)
Participating NGOs
Find the rooms: layout of venue.
---
The Synergy Project… Turning the Tide
Saturday 13th December 2003, 10pm – 8am
SEOne, Weston Street, London SE1
£15 / £10 Concessions (students, unemployed, partner NGO members)
IDSpiral, Liquid Connective, Indigenous People, the Small World Stage, Puma Punka Healing, Hubble Bubble, Revelation GoGo Broadcasting and the 491 Gallery, are proud to announce the next incarnation of The Synergy Project, the ground-breaking Conscious Party organisation.
Advance tickets : Access all Areas, Camden (0207 267 8320)
Psychedelic Dream Temple, Camden (0207 267 8528)
DiFuzion, Portabello Road (07973 906972)
Rocket, Rochester (01634 817848)
Illegal Records, Brighton (01273 623454)
£10 Concessionary tickets available on the door only for students, unemployed or NGO members.
in the Main Room…
The multi-dimensional trance room – fusing light and harmonious musical vibes with live musicians, cutting edge conscious visuals, avantgarde performances and visionary artwork.
Live – OOOD / Unconscious Collective
DJs Baraka (Return to the Source), George Barker (Dragonfly), Pan Patterson, Leila (Dragonfly), Entropy (Liquid Connective), Jeremy (Liquid Connective)
***
in the Hubble Bubble…
A unique fusion of the future sounds of multicultural London to the Synergy mix. Blending the best of African, Asian, Latin and African Rhythms and melodies, Hubble Bubble will be guided by Belly Dancers, Sufi Dancers and the fabulous Oojami, a fusion of traditional Turkish music and contemporary dance beats, all spiced with Hubble Bubbles finest VJs and DJs.
Oojami – acoustic sufi soundscapes followed by exotic dervish breakbeats.
DJs Sangeve, Nejme, Alex Kaiser (Transglobal Underground), Nelson Dilation
***
in the Healing Chill…
psychedelic, ambient and world music interspersed with spoken word performances, live Psinema and Tea and Empathy from Revelation GoGo Broadcasting and the Puma Punka healing space.
Spoken word from London's finest alternative poets, live Psinema from Revelation GoGo Broadcasting, Tea and Empathy and Puma Punka Healing
***
in the 491 Gallery…
Vertigo Film Club, metamorphic performances, nomadic art spaces and scented pathways.
***
Plus the familiar array of stalls, whole-food cafes, exhibitions from leading non-governmental organisations, and the warm and friendly community vibe which is fast becoming Synergyé™s defining characteristic.