ARMS REDUCTION COALITION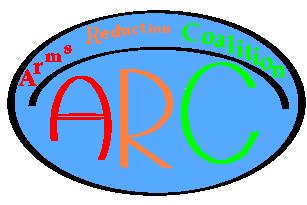 The Arms Reduction Coalition (ARC) is campaigning for the member states of the UN to agree and implement a legally binding treaty to reduce the amount of resources spent on arms by between 1 and 5 % for a period of between 10 and 25 years, and to spend the resources saved on national and international peace and development programmes. This reasonable proposal is based on implementing Article 26 of the UN Charter, through which the states of the UN have committed "to promote the establishment and maintenance of international peace and security with the least diversion for armaments of the worlds human and economic resources".
ARC is taking this campaign forward through:
Initiating a process of multi-group discussions and meetings around the theme of military spending and the use of economic and human resources for development ends in the immediate future.
Building a coalition of many individuals and groups from around the world.
Gathering signatures calling for the UN Member states to agree a treaty establishing the implementation of the principles contained in UN Charter Article 26.
ARC have only attended 2 Synergy Project nights, but since our first experience of Synergy, on Feb 3rd 2006, we became aware that the project was a veritable carnival of human optimism, which is all the more encouraging when, as now, we are living in a time when the world has all but overdosed on cynicism.
The venue is adorned with colourful lighting and backdrops and the atmosphere suitably adorned, by just as colourful people. Indeed, what struck us most was that there was never a shortage of strangers willing to become acquaintances.
As a campaign group who hold stalls at many events, what we look for most, aside from interested punters, is the desire by other campaign stallholders to talk about what they are doing and how their work may link with ours. This is made unavoidable at Synergy Project by the close proximity of other campaign stalls, but most of all by the infectious friendliness and cooperative spirit oozing from the place.
It is evident that the Synergy Project crew are meeting a genuine need amongst today's clubbers and from the perspective of the Arms Reduction Coalition, they could not have a more necessary role for a world so in need.
For further information contact: Arms Reduction Coalition (ARC), PO BOX, 42567, London, E1 2WP
Tel: 07899953977 / 0208 502 7673, Website: www.arcuk.org E-mail: ngo@arcuk.org