CAMPAIGN AGAINST CLIMATE CHANGE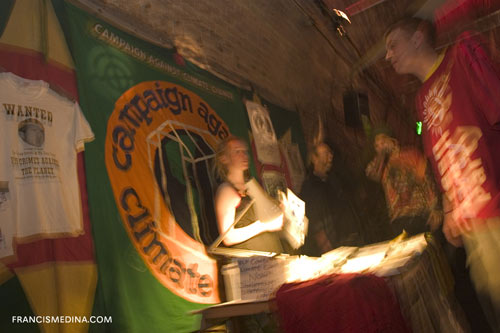 Our stall at the Synergy Project 28th April 2006
The destabilisation of global climate has become the very greatest threat to our planet and everyone on it – with the possible exception only of all-out war with modern weapons of mass-destruction. We don't know how much irreversible damage we have done already but we know that if we do not act now the effects will be many times more devastating still.
The damage has been done mainly by the rich nations but the poorest will suffer most…though everyone is threatened in the long run. Action is urgently needed now. But ignorance, inertia, short term greed and vested interests stand in the way.
Campaign against Climate Change exists to fight against all these things in the interests of pushing for the urgent and radical action we need to prevent the irreversible destabilisation of global climate. In particular The CCC acts as an umbrella group for street demonstrations designed to maximise the greatest number of people in order to push for urgent action on climate change, challenge those who are preventing this and raise the profile of the issue, generally.
At the moment it is the US that is the most serious obstruction to globally coordinated action to combat climate change and so our campaign is now particularly focussed against the US adminstration and its policy on Kyoto, with demonstrations frequently targeting the US embassy.
We believe that action currently being taken to control climate change is nowhere near sufficient to match the scale of the problem. We cannot trust governments or leave it to other people to take the necessary action – we need to take action ourselves to make sure we leave an inhabitable planet to our children and future generations. But at the moment we are not doing nearly enough to make up the lost ground in the race we are now losing against the escalating threat from climate change. We need bigger rallies, more actions, more marches and protests to galvanise both our own and the global community into taking the decisive and immediate action that is urgently required. To do that we need you.
Contact CACC on 02078339311 or 07903316331
CREATIVE PERSONS' MEETINGS are held monthly usually in the 3rd week at 6.30 pm. There are also subgroup meetings. All meetings take place at Archway Resource Centre 1b Waterlow Road, London N19 (Archway tube station, on the Northern Line, High Barnet/Mill Hill branch).

www.campaigncc.org
For the next and future meetings check this site or email info@campaigncc.org, or ring 02072728715 or 07903316331. These are open meetings, everyone welcome.