SPEAK

is a network connecting the emerging generation to pray and campaign about issues of global injustice, currently focusing on corporate social and environmental responsibility and Government support and promotion of the arms trade. We bring with us a creative space for prayer, meditation, reflection and chats called the Meditation Ecosystem, as well as simple, imaginative campaign actions for anyone who wants to build a better world to take part in. We also bring a heavenly host of hospitable angels!
Look out for us at future Synergy events.
www.speak.org.uk

0207 249 4309
Why We Come To Synergy

Coming to synergy for us is great because:
We get to meet lots of inspiring people.
We get hundreds of big dress squares made (creative petition for trade justice)
Lots of campaign post cards are signed.
Many SPEAK network members are motivated to explore their own creativity as a result of coming.
Its good to raise the profile of the issues we are concerned about.
We have a really good time, conscious partying helps us keep our energy up for the causes.
Cross fertilisation between conscious artists and NGOs is important to strengthen the movement for social justice. So if you are an NGO thinking of coming we would really recommend it!!!
– Many synergy people have contributed squares to the Big Dress so thought you may like to see a photo, the dress will be doing UK tour starting Feb 07-09.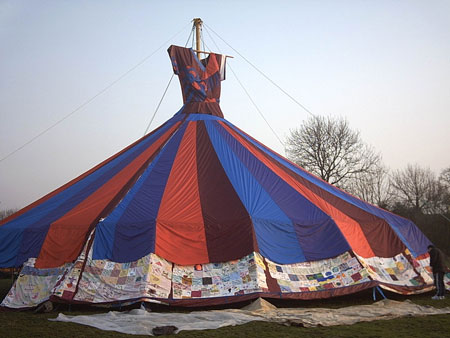 – The rest of the photos are us at synergy doing the stall and the ecosystem.