SP – Simpol – the Simultaneous Policy
Basically, the Simultaneous Policy (Simpol) concept revolves around
addressing the reality that politicians today are ineffectual in passing
resolutions, such as stricter environmental controls, that render their
nations "uncompetitive." If they do make tough regulations, then big
business will just move to another, less regulated country and that's bad
news politically. However, if enough nations acted simultaneously, this
first-mover competitive disadvantage would be removed.
Check out both our global and UK sites:

www.simpol.org
Through Simpol, citizens worldwide are gradually coming together to
prioritize issues of global importance that no nation can solve on its own,
due to the above problem, and formulate policies that address them. The key
is that these policies will then be implemented simultaneously. Citizens are
also applying pressure on their political representatives to pledge to
implement the Simultaneous Policy at such time when sufficient other nations
are also on board. In this way, we are aiming to get cross-party support for
SP, thus increasing its chances for worldwide implementation. Weekly, we are
increasing the numbers of UK MPs who have pledged (17 as of this writing),
and also have the support of several European Parliamentarians, the entire
Green Party of Australia and Dr Jose Ramos-Horta, Nobel Peace Prize winner
and Prime Minister of East Timor.
Noam Chomsky said, "It's ambitious and provocative. Can it work? Certainly
worth a serious try"
Tony Benn said (of the book upon which it's based),
"Simultaneous Policy is a very stimulating book and by substituting
internationalism for globalization, co-operation for competition, humanity
for markets and wisdom for materialism you have unlocked a powerhouse for
good."
We love Synergy as a place to campaign because it gives us a chance to reach
a lot of people who feel failed by the current political system. We hope to
persuade them to use their votes to try to effect change, rather than giving
up on democracy completely. We get many interesting points of view as well
as new Adopters, many of whom are willing to sign letters to their MP urging
him or her to sign the pledge.
Here we are with the info stand at a recent Synergy party.
And here's a picture of the SP banner at the Climate Camp march in September.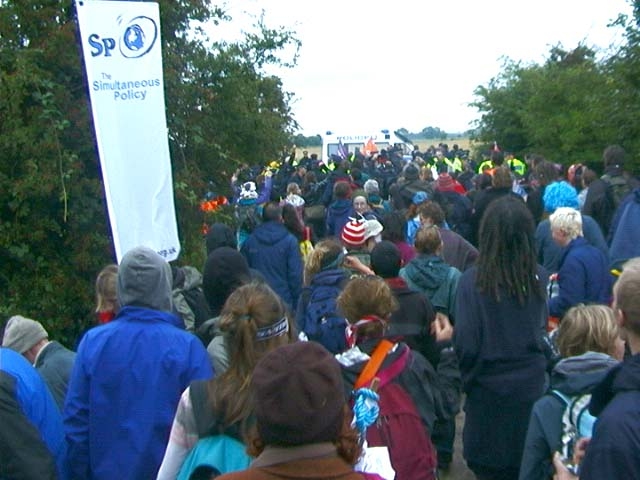 For more information see www.simpol.org.uk