Party News |  Cheap Tickets |  Other Events
Dear Friends,

Welcome to the Luminopolis (formerly The Synergy Project) newsletter… we had some technical problems with our last mailout, so apologies to those of you who received several copies or nothing at all.
---
We hope you enjoyed our last party on 3rd October – you can see photos here. Our next event will be on Saturday 22nd November 2008 (yes, Saturday 🙂 at seOne London, and will be the last one of 2008.

With the recent economic situation and forced change of name, we suffered a big financial loss at our October event. If this next event does not go well for us then it will be the last one ever! If you wish to see the project succeed and continue, please rally up your friends and support us on the 22nd!! See below to get cheap £15 tickets.

See our website for full details… here's a brief summary:

Full-on Psytrance with a hint of Progressive in the Main Room by Liquid Records with Agent 17 / S>Range (live) , Tron (live) , DJ Pollyfonika , Luke Porter , Morph , Beatnik , Liquid Jeremy , and Liquid Elf .
Dubstep, Electro, Hip Hop, IDM, 2-Step & Breakbeat in the Red Room by Blood Tribe Records with Jazzsteppa (Live) , Groove Diggerz (live) , Nagual Sound Experiment (live) , Screenager (live) , Ana Sia , Adam Symbiosis , and WhipperSlacker .
A good old fashioned knees up in the Cream Room by Fish Seeks Bicycle with Mr Doris and the Horns (live) , Brothers Bab (live) , The Cosmics (live) , Freefall Collective (live) , Head of State , Captain Grimace , Chris Pedley , The Crafty Rascals , and DJ DeQueer .
Electronica & Chill Beats in the Blue Room by inSpiral Lounge with Rumpistol (live) , Libelula (live) , Mint (live) , Z-Arc (live) , Halogen (live) , Nova vs Giani , Naked Nick , and Aliji .
Inspiration Hall in Deep Blue with Zeigeist Addendum (film) plus Q&A with director Peter Joseph ; "Where Can I Live Now?" (discussion on how the current chaotic economic climate affects us, and what we can do about it) ; Polly Higgins of WISE Women network (talk on Concentrating Solar Power) ; Adrian Harris of Dragon Network (talk on Earth Day celebration) ; Twindove featuring Antarma (live music) ; Open Mic hosted by Brian Viziondanz ; workshops, art exhibit, and healing area.
See our website for full details
---
We have always been a community event that engages you in unique ways, for you are not just an audience but are co-creators of the entertainment. With that in mind we invite you to tell us what you think of our collaborative parties, and what changes you would like to make to them.

So please complete our survey and be the change for our collective future. As an additional incentive we will offer you a discounted ticket price of £15.00 to our next event on 22nd November 2008.
If you'd prefer not to complete the survey then you can buy early bird tickets until Sunday 16th November at £17.00 from our website.
---
MEGATRIPOLIS BENEFIT FOR FRASER CLARK
Thursday 13 November 2008 at Heaven, London.
Full details & line ups from our website
Tickets £8 from Access All Areas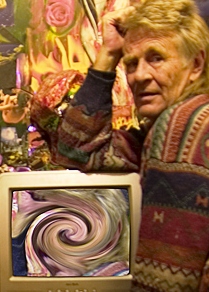 Chief zippie dude and grandfather of Luminopolis, Fraser Clark, has recently been diagnosed with inoperable liver cancer and his time within this reality zone is possibly drawing to a close. A special one-off Megatripolis event will be held as a fundraiser for his specialist medical care. We ask all of you to come and support Fraser in his hour of need, and here's why…
In the late 1980's Fraser created the Encyclopaedia Psychedelica, a magazine dedicated to the zippie / hippy movement. In the early 1990's he co-founded Megatripolis, the first major UK rave-orientated "festival in a club" thus paving the way for Luminopolis today. In the late 1990's, he teamed up with the genius alternative theatre writer / actor / director Ken Campbell to create The Warp! – a 24 hour stage play within a 24 hour trance party.
The Warp! was based at The Drome – the cavernous tunnels under London Bridge Station – now known as seOne. After The Warp! finished, a number of the production crew went on to create The Synergy Project – now known as Luminopolis – based at seOne. So you see Fraser's trailblazing has lead directly to the amazing parties that we run today – he is our spiritual grandfather.